Discussion Starter
•
#1
•
They're right around the same price for a set (Q2 - $250, DR2 - $270), have the same amount of die hard fans and a lot of the same features.
So then, it all comes down to preference.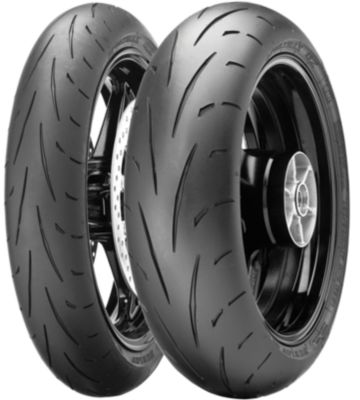 Dunlop SportMax Q2:
Radical new profile puts down a bigger footprint at extreme lean angles while also allowing greater lean angles and higher corner speeds to provide substantially better grip and handling.
Dunlop's advanced Multi-Tread technology combines the benefits of a tough, long-wearing center compound for increased mileage with a special lateral-grip compound on each shoulder for superior cornering traction.
New carcass construction in both the front and rear tires includes newly designed continuous hex beads that are both lighter and stronger to enhance steering response in the front tire and increase cornering stability in both tires.
From
CycleWorld
:
Compared to the original Qualifier, the Q2 is said to offer a 15-percent improvement in drive grip and traction, a 5-percent bump in steering response and a 25-percent leap in cornering stability. Based on our one-day experience at Spring Mountain Motorsports Ranch, we have no reason to doubt those claims.
Check out the
Dunlop SportMax Q2
at KneeDraggers.com!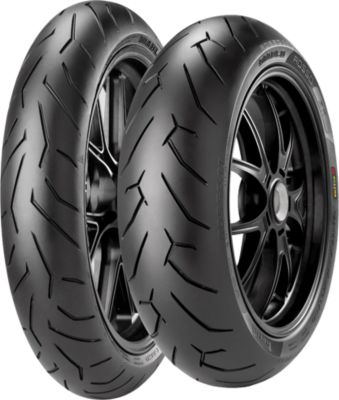 Pirelli Diablo Rosso II:
Feature Pirelli's patented EPT (Enhanced Patch Technology), matched with a three-zone dual compound rear, optimizes the contact patch for high-grip compound on the road and on the track.
Pure racetrack performance combined with the comfort and predictability you expect from a high-performance street tire.
A maximum contact patch area is due in part to an ICS (Integrated Contour Shaping) technology, complimenting handling and power of today's modern motorcycles.
From
MotorCyclist Magazine
:
Critics claim spec-tire rules kill innovation by quashing competition between tire brands, but satisfying the WSBK paddock has consistently improved Pirelli's sportbike tires. With outright performance rivaling the track-specific Diablo Rosso Corsa and enough versatility to handle wet, dirty French country roads, the Rosso II suggests race-bred technology continues to trickle down.
Who needs race tires with street tires that grip this well and wear this long?
Check out the
Pirelli Diablo Rosso 2
at KneeDraggers.com