Stainless Steel Brake Line Special ..."Buy Front Lines and get the Rear line FREE"..!
.
For the next 30 Days, If you click this link here, and Order a Set of CORE MOTO SS FRONT Line KIT For Regular
price, you can add a FREE REAR LINE.
Yep, that's right. FREE.
You just have to use this link here, as it's a FORUM SPECIAL OFFER.
>>
CORE MOTO SS BRAKE LINE FORUM SPECIAL
<<
Most of you have personal experience with changing to SS Lines and understand how much of an improvement they make over the stock rubber lines.
For those of you who don't... it's a huge improvement.
Better braking power, more feel, less fade.
It can often be the difference between stopping in time, or slamming into the back of someone that pulled out in front of you.
Every little bit helps when it comes to brakes. And these are a small price to pay for better brakes.
COREMOTO FORUM SPECIAL OFFER EXTENSION

12-17-13 UPDATE :

Awesome news guys & gals.

This Special offer has been so successful and had such positive feedback, we got it extended it to Jan. 30th. 2014

That gives you all little extra time to get them, or get them added to your Christmas list with family or friends.
Just don't wait too long and get jammed with the Christmas rush..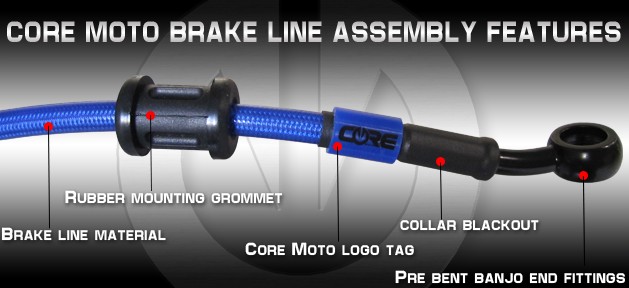 OEM rubber hoses expand and swell, especially under extreme braking conditions.
This expansion results in what is often described as a spongy feel or brake fade.
Most motorcycle manufacturers recommend that your OEM rubber brake lines be replaced
every 4 years when used under normal conditions.
Core Moto Stainless Brake Lines are good for the life of the motorcycle.
Core Moto Stainless Brake Lines lines Do Not expand under pressure or fatigue. All braking input
is transmitted from the master cylinder directly to the calipers, giving you complete control, feel and
feedback from the final point in the braking system. Total brake response and performance is improved
with this often overlooked yet simple modification.
.