Guys, I have tried my best to be on the upmost honest level with all you since the day I joined this forum in 2015. I read and read and learned and learned before I even hardly posted a word. The RCK3 needing to be in the 2015 S1000RR so I could just dial in and tune my suspension was all I needed. I didnt need more HP and Torque realistically at that time because I was just still learning to ride with no left leg. If you think just getting on a superbike level sportbike with a full prosthetic leg is an easy task, just tape and zip tie your left boot to the rearset. See how long you last before you fall over to the left side coming to a stop. Then on the track think of the body position you guys go through in order to setup for left and right corners. I didnt need more power. I merely wanted to adjust my suspension. Well I accomplished RCK3 / HP power race enable ECU October 2016. Took me one month to figure out the coding. Cost me $15000 dollars to get all the hardware and software needed, but, I could certainly get RCK3 into the Bosch BMSX ECU now. So fast forward to 2018. The big rumors of K67 S1000RR. It goes like this >
BMWHP.com – XWORKS V1 * EXWERKS V2 * M1000RR 212HP Code
XWORKS V1 explained. I received the prototype coding of the K67 December 2018. If you think about the timeline of the K67 which became the 2020 BMW S1000RR, I have had the code far before Euro / USA anything was released to the public. I have been accused many times I am selling my V1 code as Euro ECU pull out code. That is 100% false. In my opinion if you truly believe that you are not my type of person I choose to help with your racing needs anyway. Pick up the phone, call me, have a conversation and see if I sound like I am truly trying to scam and rip anyone off with my professional coding abilities.
The timeline of manufacturing explains how I have what I have in code. The first K67 built that I can track in the BMW system was February 2018. The natural course of programming as it is explained to me by a BMW professional is that programming is the development dyno code that provides the best of the best you would want and wish that BMW Motorsports could release to the public. BMWAG cannot release this code to the public. It is emissions legal, it is just that it is not EURO approved and it is not USA EPA approved. Going into the Euro specs at that time in 2018 would be EURO4. Slightly less restrictions compared to meeting EURO5 that started in 2020.

That difference
Euro 4
limits place restrictions on the amount of carbon monoxide (CO), hydrocarbons (HC) and nitrogen oxides (NOx). As well as reducing those totals,
Euro 5
adds a limit on the amount of non-methane hydrocarbons
in the
exhaust, and that's proving to be a particular challenge for engine designers.
Anytime we move toward reduced emissions it is typically a reduction in HorsePower. That can be seen in the release of the numbers compared on the dyno. This chart clearly shows V1 code vs Euro released code vs USA released code.
DynoJet 250i chart XWORKS V1 202.38 4th gear and 202.16 @ 88.37 in 5th gear on this run day.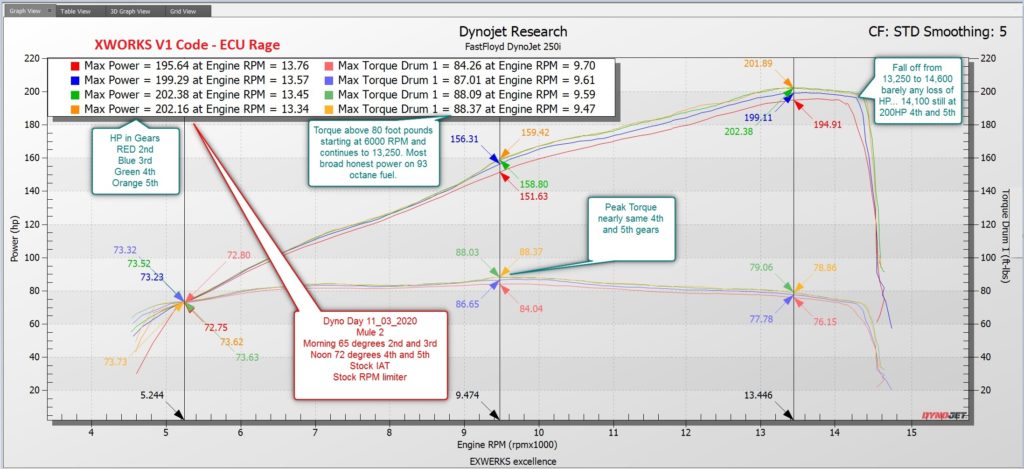 It is simple math. Dyno proven unrestricted V1 code is rated up to 215HP at the crankshaft. This number was discussed by BMW engineers on several videos during the development discussions with news media. It would have been great for us as racers to see this release, but it could never happen. Too much power and would never pass emissions. The company that could get the coded ECU however was Akrapovic. If you notice the specs of the Akrapovic exhaust addon dyno sheets for the EVO and RACE version is the same horsepower and torque that my V1 code is. 215HP rated at the CRANKSHAFT works backwards to the rear tire at 202HP. We typically use 12 HP lost in driveline. The driveline can comprise of the sprockets used, chain size, chain oring / non oring, wheel composition, tire size, tire pressure, tire weight. This is the simple things of the driveline. There are still even other factors, but lets keep it simple.
So if V1 code is dyno run consistently among 3 K67's in house same dyno, same air conditions, we can say with some certainty that 202HP is a good number and that is not EURO released code.
Lets look at EURO released code. Since the K67 was actually released in Europe early 2019, it fell under EURO4 coding rather than EURO5 that was mandated for 2020. EURO magazines took the released K67 to the dyno immediately. Best I ever saw online video was 195HP at the tire. So we work that forward for driveline and we have 195+12= 207HP at the crank and guess what, it was released at 207HP. 195HP is not anything to sneeze at. However, the EURO code was limited in the 4th and 5th gears ever so slightly. EURO code did not get the 2nd and 3rd gear lag that the USA model got. ( more on that later ) .
2nd Gear
USA BLUE LINE
>
EURO ORANGE LINE
>
XWORKS V1 RED LINE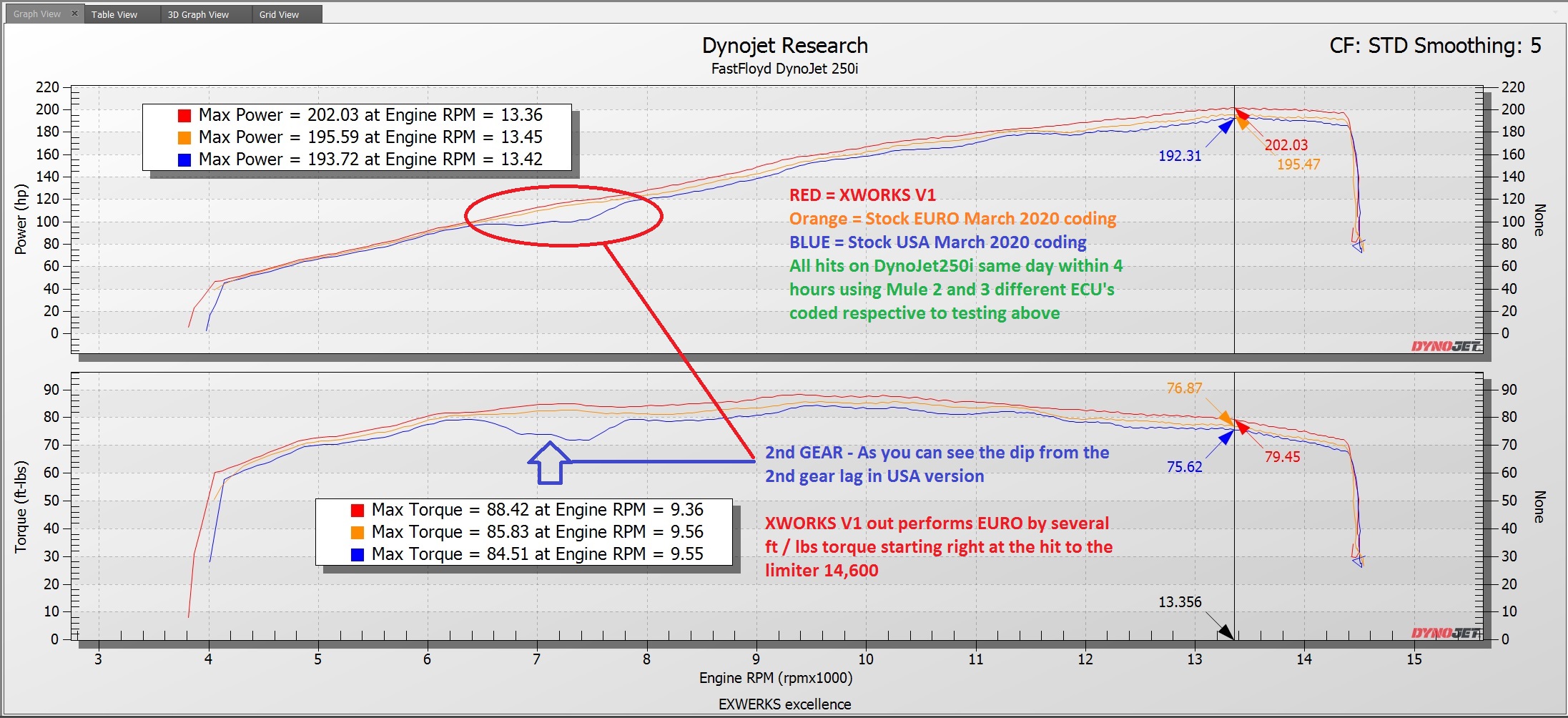 Next is DynoJet 250i runs with 2nd and 3rd gears USA GREEN And Black lines and the EURO ECU RED and BLUE Lines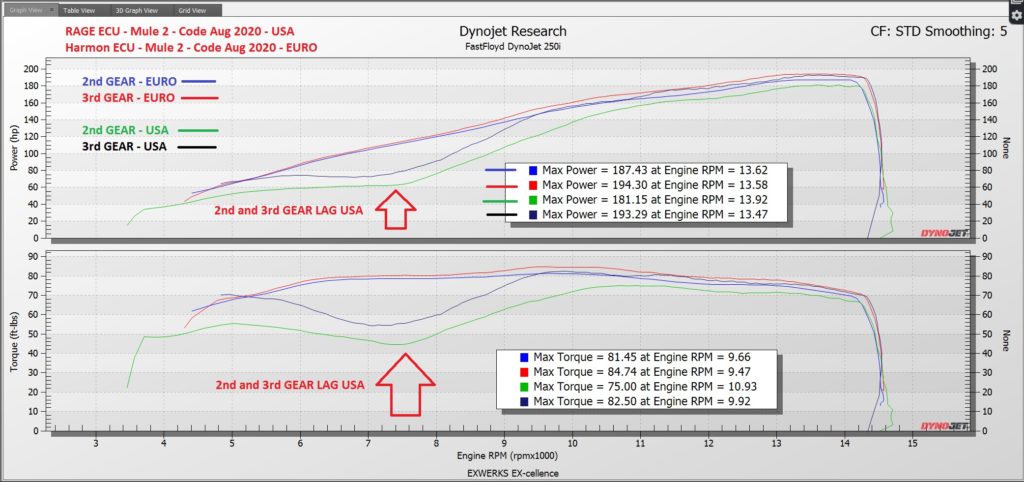 What does every modern day motorcycle racer want? Torque ! We ride the torque and brag about the HorsePower. 80 Ft lbs. I can remember when all we talked about at the track was I need more torque off the corners. If you said you need more HorsePower you were completely wrong. While HP can go up, Torque does not always go up too, and in some cases it goes down. So we got to 80 Ft Lbs in the 90's pretty easy on 1000cc bikes, it just did not last too long at 80 Ft Lbs. Today, the new BMW S1000RR even from the factory can make 80 Ft Lbs starting at 7000 RPM… So XWORKS V1 comes in strong and the only code flash upgrade on the market that starts at 6000 RPM and peaks at SHIFT CAM 9200 RPM @ 88.37 FT LBS carrying out to 13,250 RPM. Using the EURO code as a better base comparison since I am falsely accused of selling a EURO flash as my V1, we can see the EURO gives up above the 80 FT LBS at 11,750 RPM.
PUMP 93 OCTANE – Stock Chain – Stock gearing – Stock IAT – Stock flapper doors in place but open 100% at start up.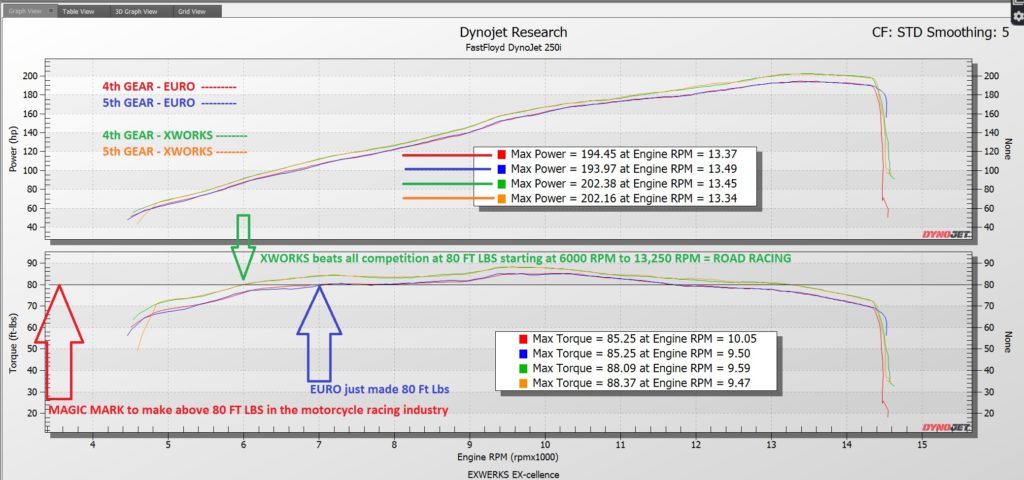 EXWORKS V2 explained later .. too many graphs need to be made and I am trying to just cover the EURO claim BS once again.
ANYONE with a K67 S1000RR or the new up coming K66 M1000RR that wants to come to my shop and dyno on my Dynojet 250i off this forum can do so for FREE !