We have a Lot of Gilles Tooling Rearsets, Chain Adjusters that need to go away.

Most of it is for Non 2012 bikes. But, we do have a few 2012 bikes as well.

But, ALL of it, is @ SUPER BLOWOUT PRICES !
While supplies Last!
POST UP or PM us for pricing on your specific application.
This is an Inventory BLOW OUT Group Buy... So These won't last long !!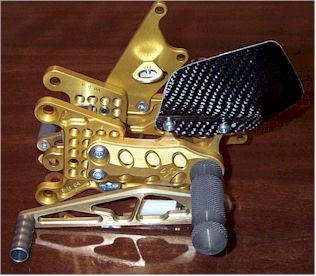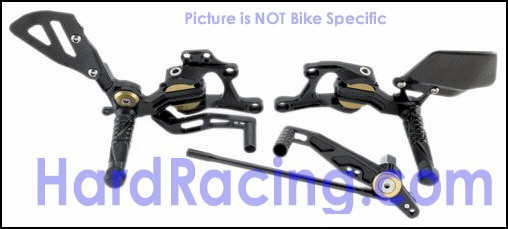 This image has been resized. Click this bar to view the full image.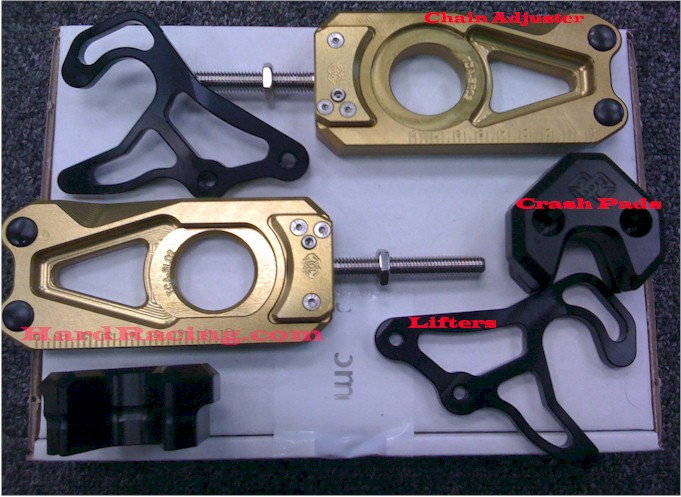 .
Here is a list of what is available.

Gilles Chain Adjusters

09-10 S1000RR TI
09 R1 GOLD
07-08 R1 GOLD
07 R1 TI

06-08 Triumph Daytona 675 BLACK

Gilles Swing Arm Lifters

BLUE

Gilles Rear Sets AS31GT

03-04 CBR600RR BLACK
05-06 CBR600RR BLACK
09 CBR1000RR BLACK
09 B-KING W/ABS BLACK
08 B-KING GOLD
06-07 GSXR6/7 BLACK
00-04 GSXR6/7/1 BLACK
99-05 GSX1300 BLACK
09-05 GSX1300 TI
08 ZX10R BLACK
05-06 ZX6R/RR TI
06-07 ZX10R GOLD
06-08 R6 BLACK
06 FZ1 FAZER TI
99-05 MV 750F4/S BLACK
02-05 749/999 GOLD


Gilles Rear Sets AS38GT

07-08 CBR600RR BLK/GOLD
04-07 CBR1000RR GOLD/GOLD
04-07 CBR1000RR GOLD/BLK
08 CBR1000RR GOLD/GOLD
09 CBR600RR BLK/GOLD
07-08 GSXR1000 BLK/GOLD
07-08 GSXR1000 GOLD
09 ZX6R BLK/GOLD
09 ZX6R GOLD
07-09 Z1000 BLK/BLK
07-09 Z1000 BLK/GOLD
07-09 Z1000 GOLD/GOLD
09 R1 BLK/GOLD
09 R1 GOLD
07-08 R1 GOLD/GOLD
07-08 R1 GOLD/BLK
08-09 RC8 BLK/GOLD
08-09 RC8 GOLD/BLK
04-09 Superduke BLK/GOLD
04-09 Superduke GOLD/BLK
04-09 Superduke GOLD
09-10 RSV4 BLK/GOLD
04-08 Monster S2R BLK GOLD