Now that we have the NRC Fender Eliminator Group Buy out of the way, I can get this group buy going on as promised.
The group buy is for 4Racing Components chain adjusters.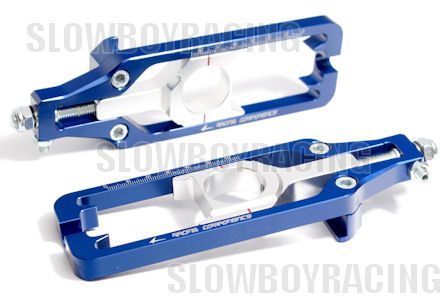 4Racing makes top of the line CNC products in Italy. The anodizing is high thickness anodizing that will not fade over time.
The outer part of the chain adjusters are available in 5 colors as seen below.
And the inside part of the chain adjusters are available in silver or black, as seen in the picture below.
- These adjusters are made from billet from aluminum alloy 6082, which is an exotic alloy aluminium-magnesium-silicon family.
- The millimeter scales are laser etched to ensure maximum accuracy, and also the durability over time.
- The adjustment screw is made of galvanized steel C40.
In other words, they are cream of the crop. The MSRP on these are over $300 USD.
Available for 2009-2014 S1000RR (including HP4) and 2015-2016 S1000RR.
Some of you had asked for the chain adjusters for other bikes such as Triumph 675R, you can definitely get those as a part of the group buy, as well as any other make and model motorcycle that 4Racing produces these for.
As always I am asked by the supplier not to publicly post the group buy pricing because of their policies, but PM me and I will get back to you with the group buy pricing. It'll be well worth to jump on this group buy while you can.

CLICK HERE TO SEND ME A PM FOR GROUP BUY PRICING
Looking to have a minimum of 5 people to get this group buy going. I think we won't have troubles getting 5 people for the group buy given the pricing of these.
Ideally we'd want the payments collected from everyone who joins on the group buy by
September 15, 2016!
And get everyone's chain tensioners to them by mid-February!
​