Discussion Starter
·
#1
·
The Monza suit from Alpinestars has an almost unbeatable combination of safety and value built into it. Alpinestars tech uses their most comfortable CE-certified GP protector armor in the shoulders and elbows. While the company makes other CE-rated armor for those same areas, the GP protectors are designed with an extra focus on comfort so you can concentrate on riding and not the armor that's pressing into your skin in an undo fashion. For the lower extremities, each knee is surrounded by flexible, form-fitting CE-approved armor that integrates shin protection all into one-piece for a wide area of coverage around the joint structure. The leather covering the knees is sewn in a manner that reduces both the length and number seams for increased survivability through better abrasion resistance and reduced risk of tearing all while increasing both flexibility and comfort. There are also PE pad inserts located in the chest and hips, the former of which, can be upgraded with Alpinestars Bionic chest guards. To cover your hind side, Alpinestars makes it possible to snap-in a Bionic Race protector so you don't need to fuss with it too much every time you get into, or out of, your leathers.
We have expert suit-fitters on staff ready to help you get sized for an Alpinestars Monza leather suit. Call TJ at 866.931.6644 ext 817 for sizing guidance and fast shipping. You can also send email enquiries to FORUM at RIDERSDISCOUNT dot COM with ALPINESTARS MONZA SUIT in the subject line along with the size and color you want.
The Monza suit in black/orange/white.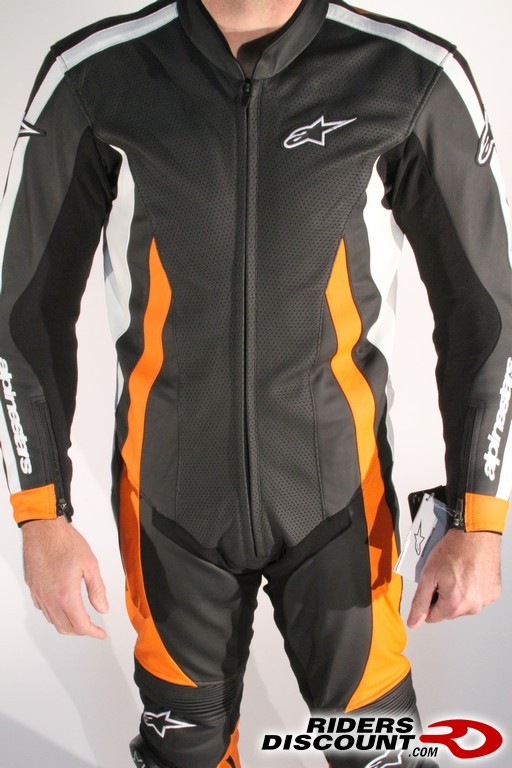 Accordion stretch panels in the knees, shoulders, elbows and lower back are designed with 4mm of internal foam padding that's just inside of the leather paneling. This combination provides comfortable flexibility without any undue pulling of leather in other areas near these joints.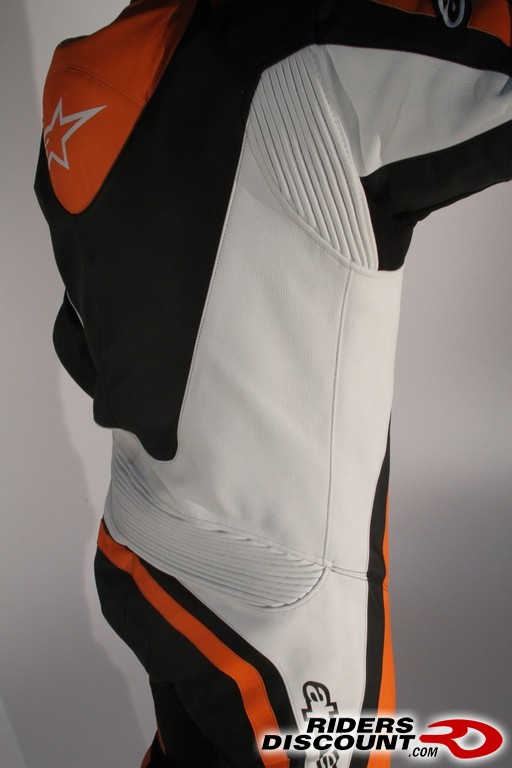 Neoprene sleeve cuffs won't chafe under your gloves.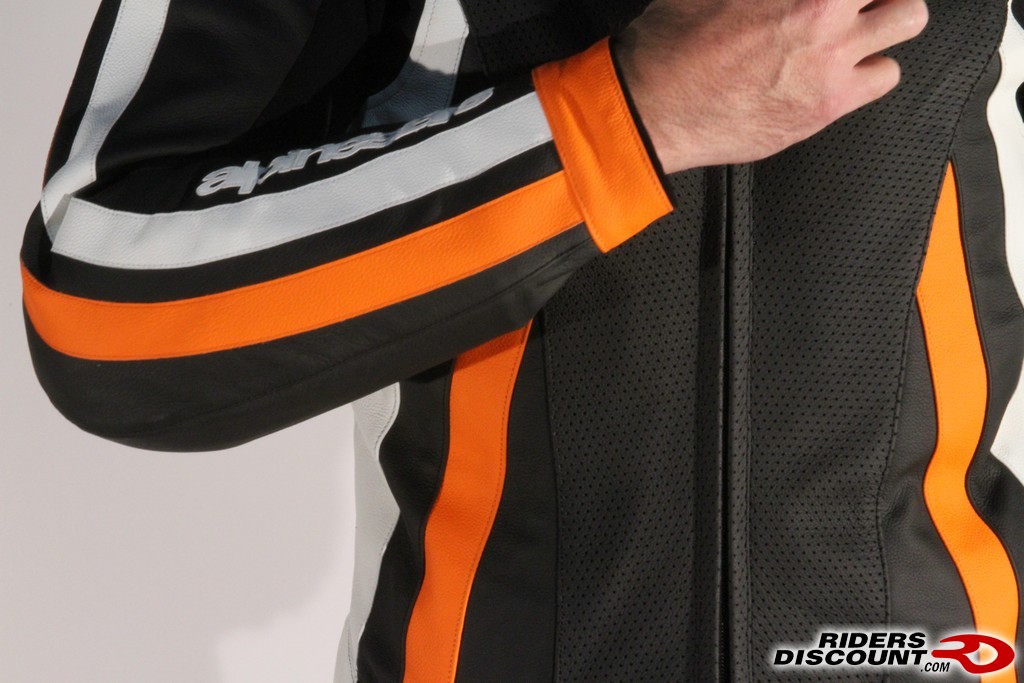 The entire chest from neck to crotch is perforated in the middle section.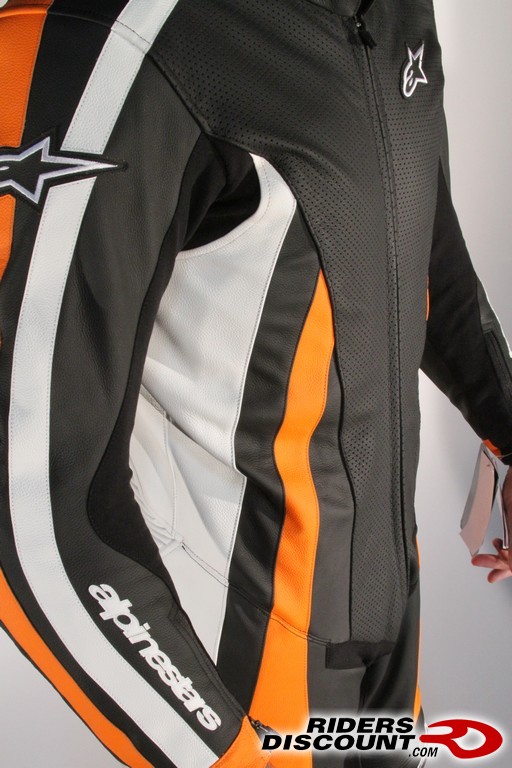 Inside each of the one-piece suits is a fully-removable mesh liner which makes getting fitted a lot easier!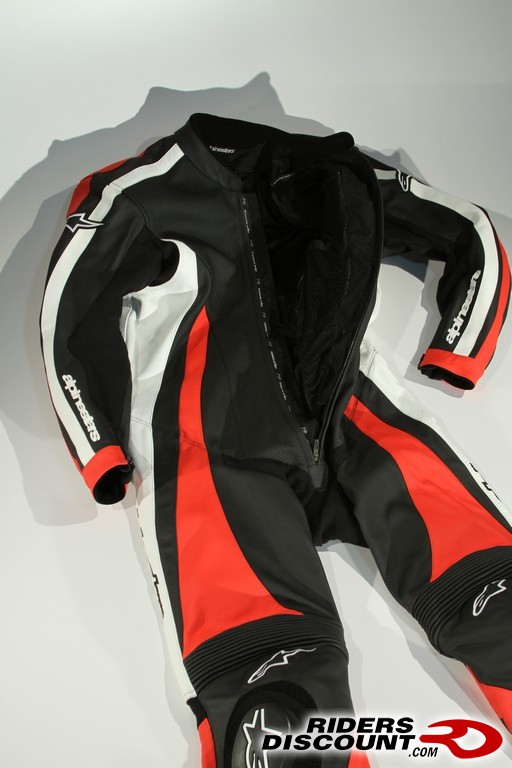 The black/red/white Monza leather suit.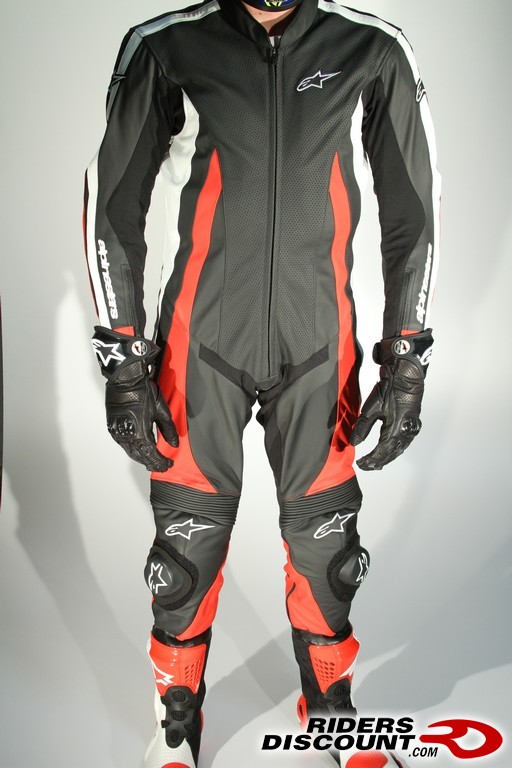 We also have these suits available in a two-piece design in red/white/green or black/red/white which is perfect for street riders looking for added versatility!