Available from
RIDERS DISCOUNT: Motorcycle Accessories, Motorcycle Helmets & Gear
–Akrapovic Full Exhaust Systems for your BMW S1000RR.
These exhausts are available in your choice of header construction:
Racing Line Full systems feature stainless steel headers
Evolution Line Full systems feature titanium headers
Racing and Evolution systems are dimensionally identical; the only difference is in their weights.
All Akrapovic mufflers for the BMW S1000RR are built with all-titanium internal construction. There are two choices for muffler style:
Standard
systems have a larger muffler that is available with either a carbon fiber or titanium outer sleeve. Included with the standard muffler is a removable baffle for attenuating the exhaust note to bring it down to more a neighbor-friendly decibel level. The muffler with a carbon fiber sleeve weighs 3.30lbs (muffler) + 1.10lbs (midpipe) = 4.40lbs on our scales.
Shorty
systems are only available with titanium outer sleeves and do NOT include a sound baffle or a provision for the installation thereof. This muffler weighs 2.10lbs (muffler) + 0.80lbs (midpipe) = 2.90lbs on our scales.
Available in the following configurations:
- Racing Line with either carbon or titanium canister in standard length.
- Evolution Line with either carbon or titanium canister in standard length.
- Evolution Line "Shorty" Exhaust
These are not yet available on our website, just call
TJ
at 866.931.6644 ext
817
to get one of these exhausts shipped to you today. You can also email your questions to
FORUM at RIDERSDISCOUNT dot COM
with the subject line BMW AKRAPOVIC and we will get back to you right away.
The Evolution Line Full System with standard-length carbon fiber muffler. All required mounting hardware and clear instructions are included.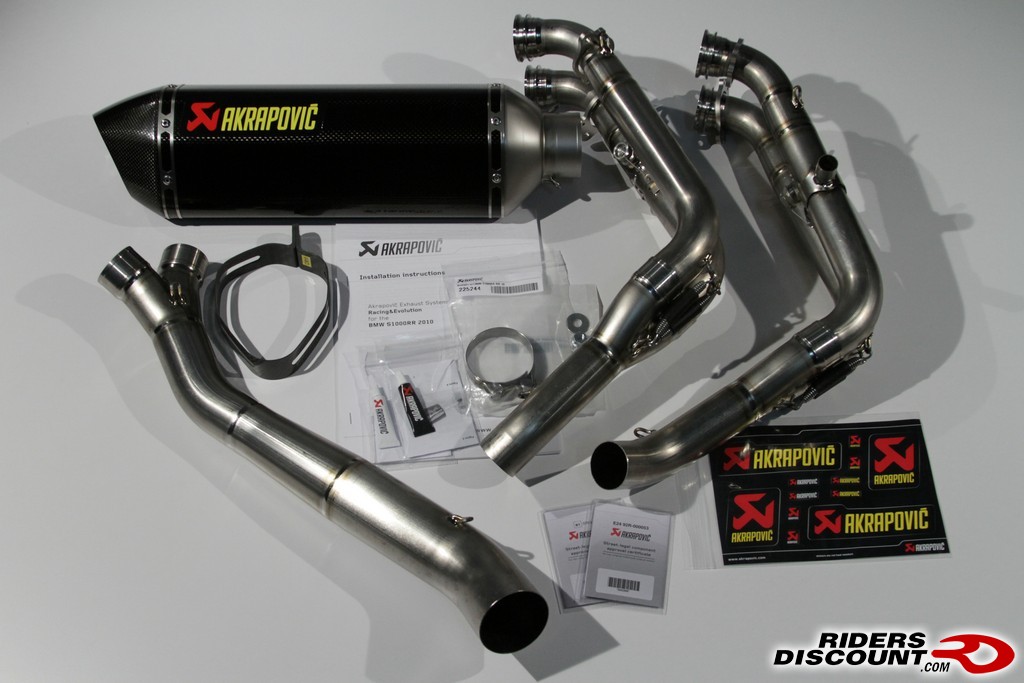 Also available with titanium sleeve.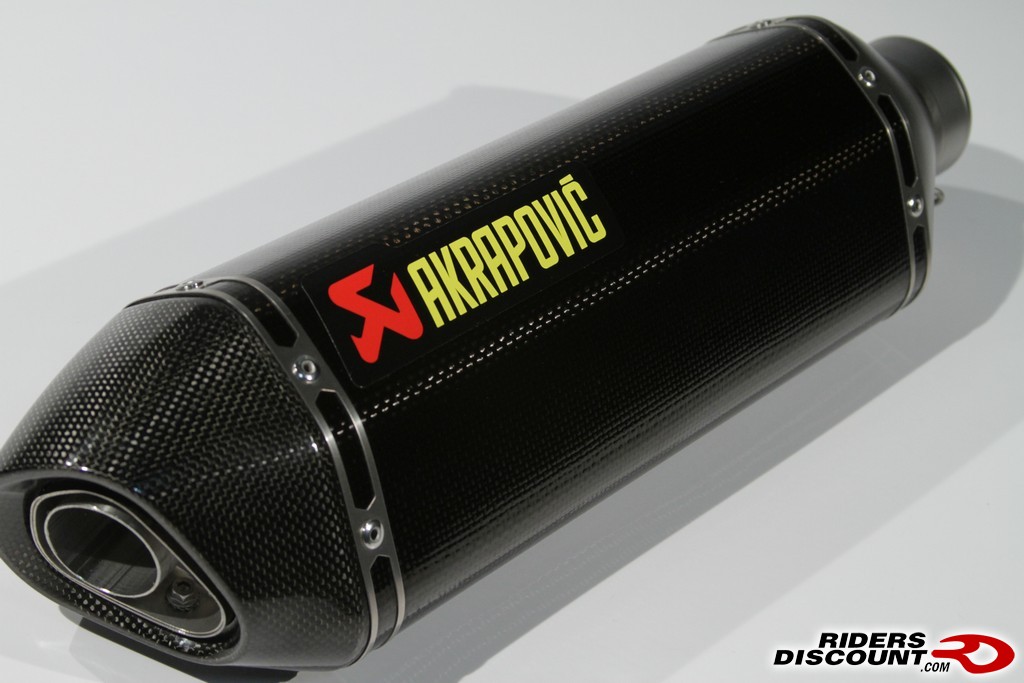 The Evolution Line Full System with shorty muffler.
The shorty muffler, like the standard-length system, has a carbon-fiber endcap made of pre-preg CF. The endcaps are placed in a mold, vacuum bagged and cured in an autoclave. Unlike some exhaust manufacturers, Akrapovic not only designs, but also builds all of their own carbon fiber.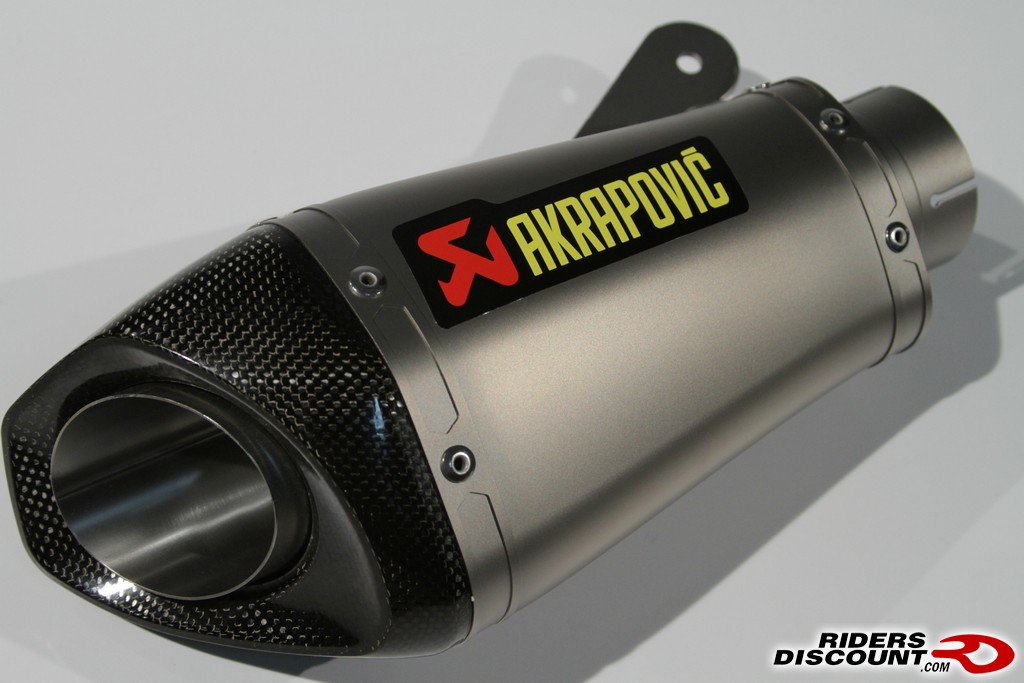 Akrapovic headers have a balancer pipe between cylinders 2 and 3 to improve low-end power output.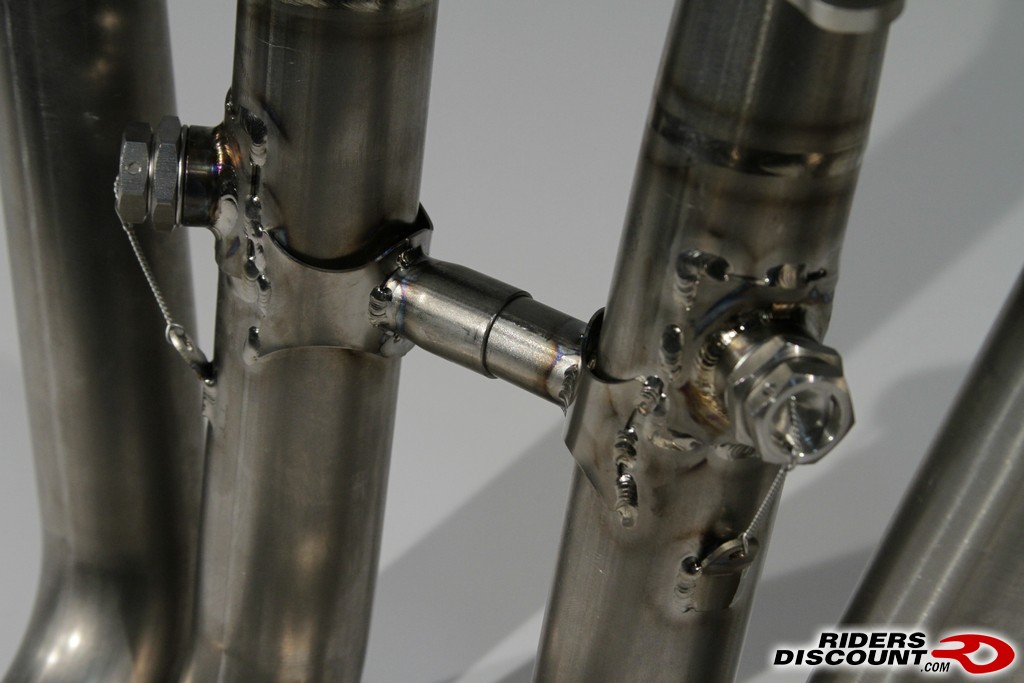 Titanium is TIG-welded so that it does not become brittle and crack with time. Our own experience with Akrapovic exhausts has shown time and again that their welds hold up over a long period of time under race conditions.