Senior Member
Join Date: Mar 2012
Location: Las Vegas/Hawaii
Posts: 254
Probably the residual power trying to flow to the HIDs..I would always try to start you bike with the Highs off. Bikes electrical systems are not that stout like cars.
I just installed the DDM kit using this.. Installed in about 30 min.. My second bike with the DDM kits and they both have been great.
---
2012 Blue Fire S1000RR
Quote:
.............
Now you are left with some big-ass ears that used to be for the useless clip.
Very nice write up and I followed it. It worked great. Just a quick note. Instead of cutting off the ears for the clip, just thread it backward or tail first, it goes through easily.
Junior Member
Join Date: Jul 2012
Posts: 3
Quote:
Rainman, thanks for the detailed write up and pics. Finished installing mine, just have to rethink how to reorganize left side cables to make them less visible...
I've got DDM 5000K 35w HID kit and some LED bulbs from ebay.
Didn't have a chance to see how they perform at night yet, hopefully soon...
Meanwhile here are pics: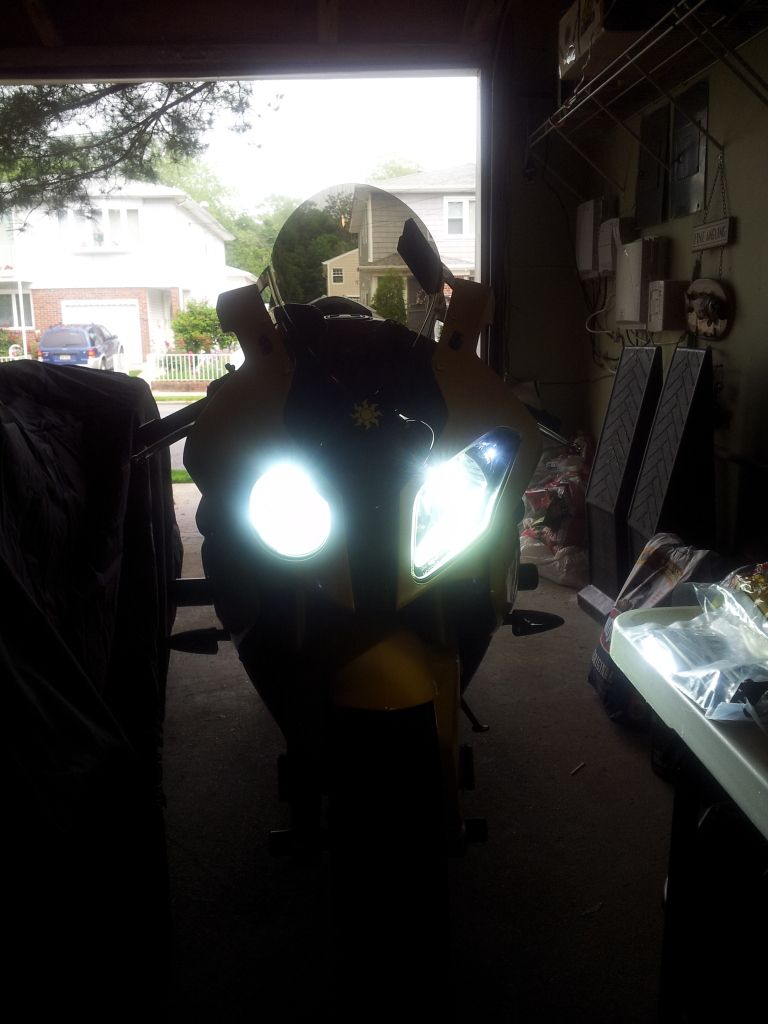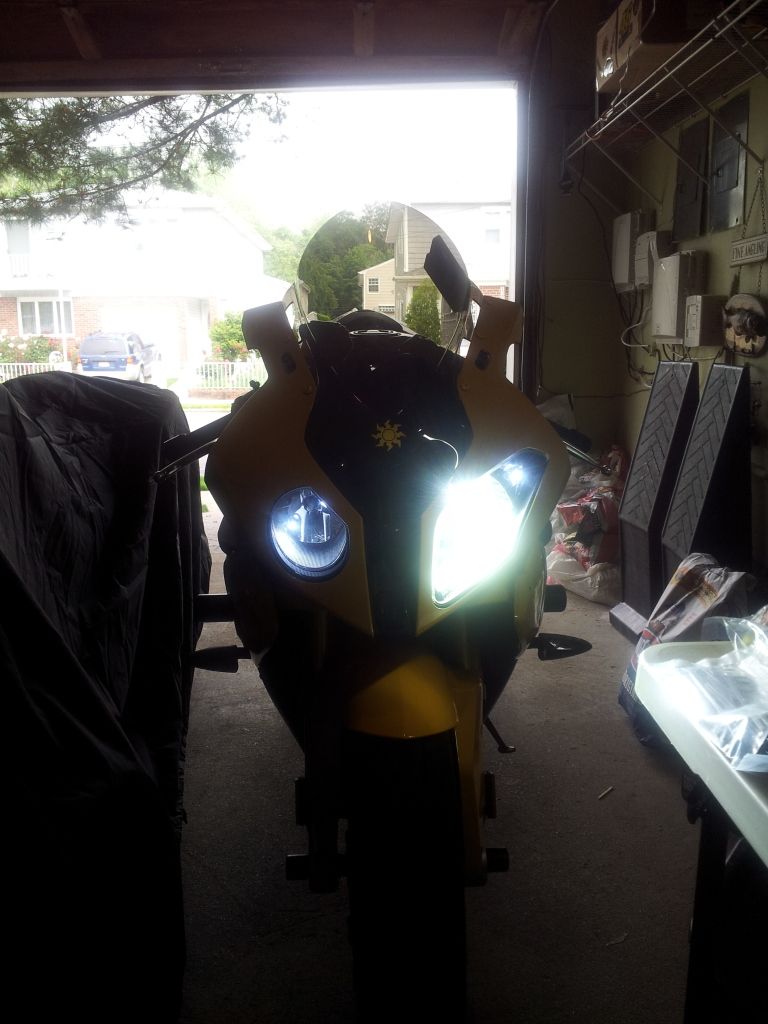 I put in a pair of Leds from ebay and there's a error message on the dash. What kind of led running lights did you get? Do you mind posting a link?
Thanks
Junior Member
Join Date: Sep 2012
Posts: 5
I did all this and it still doesn't work! Please help!??
Junior Member
Join Date: Sep 2012
Posts: 5
---
I followed all these instructions carefully and evidently its not working, do i need a relay if my kit does not plug and play??
This Thread is About HIDs
---
If you guys want to talk about LED running lamps, please go post on one of the dozens of threads about LEDS.

Don't be rude.
---
------------------------------------------------
#2 at my dealer, and #1 Acid Green in WA St.
On the street - 2/5/10.
Thanks man for the details.
I just finished mine. High beam i don't like though as when you flick it, it doesn't show as much, needs some time to reach its working temp i guess. But overall, a must do.
I got my set from Sportiva on Ebay. Install nearly the same but minor differences made installation easy. for example the base of the HID bulb is metal so i didn't need to fiddle with the clamps.
this is how i did tidy my wires, later i installed some ziplocks.
And here how it looked.
even resistor-matched LEDs somehow lose their resistance after some time and that damned LAMPF! would pop up.
On my '10 bike, I put a standard bulb back in one of the lights, and the error disappeared.
On my '12, I just went into the menu and cancelled the LAMPF! warning. That and heated grips alone far outweigh the remap and the better geometry!!
---
2012 S1000RR, sapphire black FOR SALE
2015 Ducati 1299S Panigale
2014 Ducati Multistrada Granturismo
2011 Ducati Monster 796 ABS
2000 Ducati ST4 (sold)
2010 S1000RR (sold)
2007 F800S (sold)
Posting Rules

You may not post new threads

You may not post replies

You may not post attachments

You may not edit your posts

---

HTML code is Off

---