---
2014 BMW HP4/C - #5096
2008 Ducati Desmosedici Team Colors - #187
2015 One Bad Ass Schwinn on layaway.

"Endeavor to do something for someone who cannot repay you".

"Each day, you wake up and decide who you wish to be. Endeavor to do something great".
Quote:
In general, be careful about how you use CF. The intended purpose of CF is to
replace
things in order to shave weight.
Adding
CF all over the bike not only defeats the purpose, but can look cheesy and poserish if overdone...especially on a street-only bike.
In other words, CF wheels, engine covers, bodywork, exhaust etc = perfect.
The CF trinkets"" and accessories some people add all over the bike just end up in the bike looking like that old truck you see decked out with 425 accessories from Autozone.
Of course this is just my opinion, it is your bike.
this is absolutely true. CF can get very addictive however, and I ended up adding any part that was carbon fiber to my 2010 bike. Looked nice, but really didn't serve any practical function.
I really liked SSR carbon parts in terms of fit and finish, but they were pretty heavy - no weight savings there.
I spent the money for a carbon fiber full bellypan - that saves quite a bit of weight. But I'm drawing the line there. Front and rear fenders will save some weight as well, but for the cost versus saving a few ounces...not worth it.
Also note that true racing carbon fiber looks like crap. To get minimum weight...no lacquer coats, ultra-thin construction (race fairings are disposable), and it is assumed that they will be painted for a particular team's livery. I bought a one-piece alpha Racing tank and side cover piece, and while that DID save weight, it did not have that deep gloss look, and alpha Racing was very clear that this was a race part, same as what they used on race bikes, and the cheap cost had to do with the thinness and zero effort in polishing or finishing the part.
---
2012 S1000RR, sapphire black FOR SALE
2015 Ducati 1299S Panigale
2014 Ducati Multistrada Granturismo
2011 Ducati Monster 796 ABS
2000 Ducati ST4 (sold)
2010 S1000RR (sold)
2007 F800S (sold)
Ilmberger is worth the wait. But if you do choose Bestem or one of the others to save some $$, stick with the same vendor for all the bits, otherwise it will look mismatched. They are not the same, no matter what people say.

BTW, that picture is taken under fluorescent lights. The clearcoat is not tinted, it's just the lighting. I get the same effect with the Ilmberger carbon I have.
---
Last edited by skapan; 08-08-2012 at

08:24 AM

.
Junior Member
Join Date: Oct 2010
Location: Cardiff
Posts: 24
Ilmberger Carbon
---
I've covered mine in Ilmberger and can't praise it enough!!

I've got some pics loaded on this forum.

The only part that isn't from Ilmberger is the Hugger, which came from Harris Performance in the UK (It's CRAP stuff), but keeps the Sh1t off the rear strut!!

I have the Road Nose Cone fitted to the Race Side Panels & Race Belly Pan.

I went for the Race Belly Pan to stop all the stones & Crap from getting plastered on the front of the block & exhaust. So far so good!!

It's been said here already but keep to the same manufacturer for a uniform look.
Senior Member
Join Date: Aug 2010
Location: England
Posts: 1,392
There is a company ging to be producing parts for the S1k in coloured cf.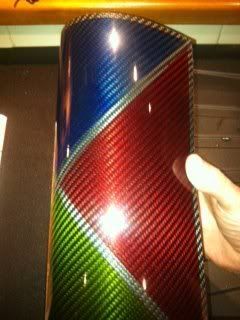 The Ducati Streetfighter code is DUCMS if you want to get an idea of how much of a discount you could get.
Sent from my Motorcycle iPhone app
Sponsor/Admin
Join Date: Nov 2009
Location: US/Spacecoast, FL
Posts: 7,704
Ilmberger does NOT make the BMW Carbon Fiber... Ilmberger makes Carbon Fiber for the S1, but it's not the same as the BMW Carbon Fiber. 99% sure that is made by Becker. Hard to beat Ilmberger for the price you pay. The BMW/Becker stuff is high end for sure though!!
Posting Rules

You may not post new threads

You may not post replies

You may not post attachments

You may not edit your posts

---

HTML code is Off

---