Alpinestars Supertech R Boots
---
A staple in motorcycle paddocks around the globe,
Alpinestars Supertech R boots
offer a level of protection that is unrivaled and do it all in an incredibly comfortable manner. As such, Alpinestars saw it fit to slightly refine, rather than completely redesign, the Supertech R boots and also added some new colors too.
Alpinestars Supertech R motorcycle boots use a two-piece design comprised of an outer shell and a separate, removable inner bootie. These two pieces work together to put your foot in a vault that's surprisingly flexible, allowing the user to walk in a natural gait and control the bike with a reassuring feel, all without sacrificing safety in terms of crash protection. The exterior shell bristles with armor to protect the heel and the upper shin/calve areas from impact. Below this, a durable sole allows you to flex at the ball of your foot while being very rigid in front of and behind this point. The toebox is rigid and it is covered at one side by a molded shifter pad which spares the leather of excessive wear while a large replaceable toe slider resides on the outer-facing side. In addition to its protective properties, the outer shell is specifically engineered to provide two degrees of ventilation, depending on the wearer's needs. A non-ventilated Supertech R boot still allows some air to get inside to keep your feet comfy while the ventilated model features die-cut perforations on top of the boot for exceptional cooling capacity. This allows wearers to choose a boot based upon the expected riding environment.
The inner-facing side of the boot is made with a large swath of synthetic suede that's designed not to snag against the motorcycle. In fact, the entire outer shell is rather smooth and linear so that, unlike boots with lots of buckles etc., 2011 Alpinestars Supertech R boots are less likely to catch on heel guards or other parts around the foot pegs. These unexpected grabs can be disastrous when you're trying to grapple with a high-power superbike.
The biggest difference between the 2011 Supertech boots and that of their predecessors, is the inner Bio-mechanical ankle brace. Alpinestars Tech has chosen to use a new mesh material to further enhance wearer comfort through improved breathability and cooling performance. This highly engineered piece is designed to limit unwanted movement in a highly dynamic environment (like that of a crash situation) to reduce the risk of injury to the wearer. Working with the outer shell that's designed to mitigate impact energy and resist abrasion, the two-part design is extremely well-adept to providing significant protection without hampering user control.
Having just been released, these boots are in limited supply. To secure a pair for yourself, call TJ at 866.931.6644 x 817 or send a note to FORUM at RIDERSDISCOUNT dot COM with 2011 ALPINESTARS SUPERTECH BOOTS in the subject line (be sure to specify your shoe size along with the color your prefer) and we'll get back to you right away.
Supertech R boots from Alpinestars.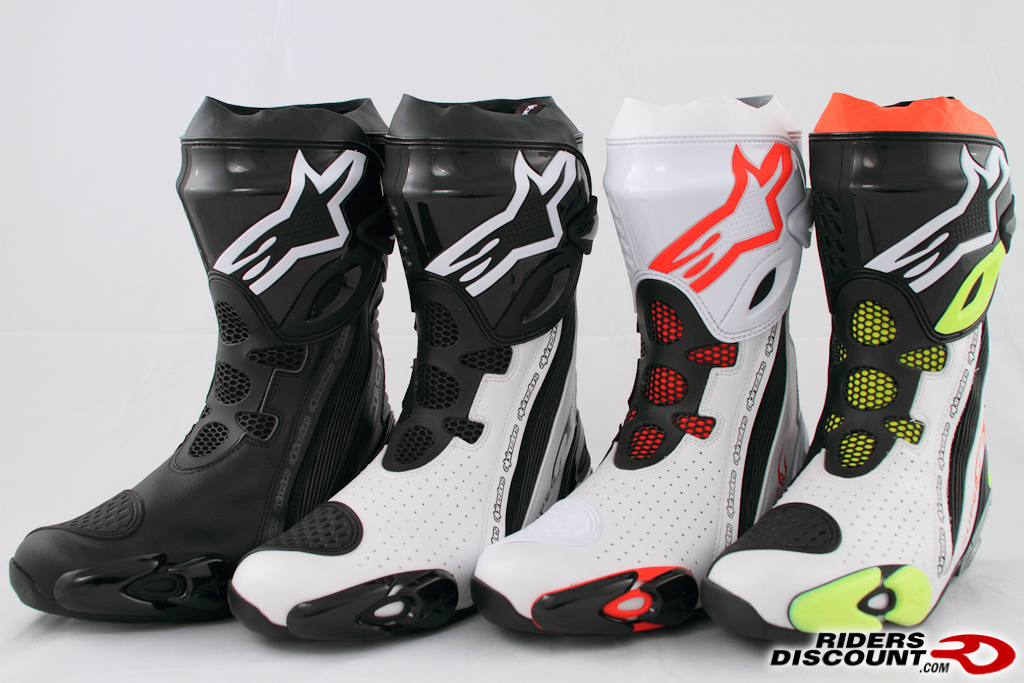 The Bio-mechanical ankle brace has been revised with a new mesh comfort liner and laces for even better comfort and durability. The new Bio-mechanical ankle brace is seen here in the foreground.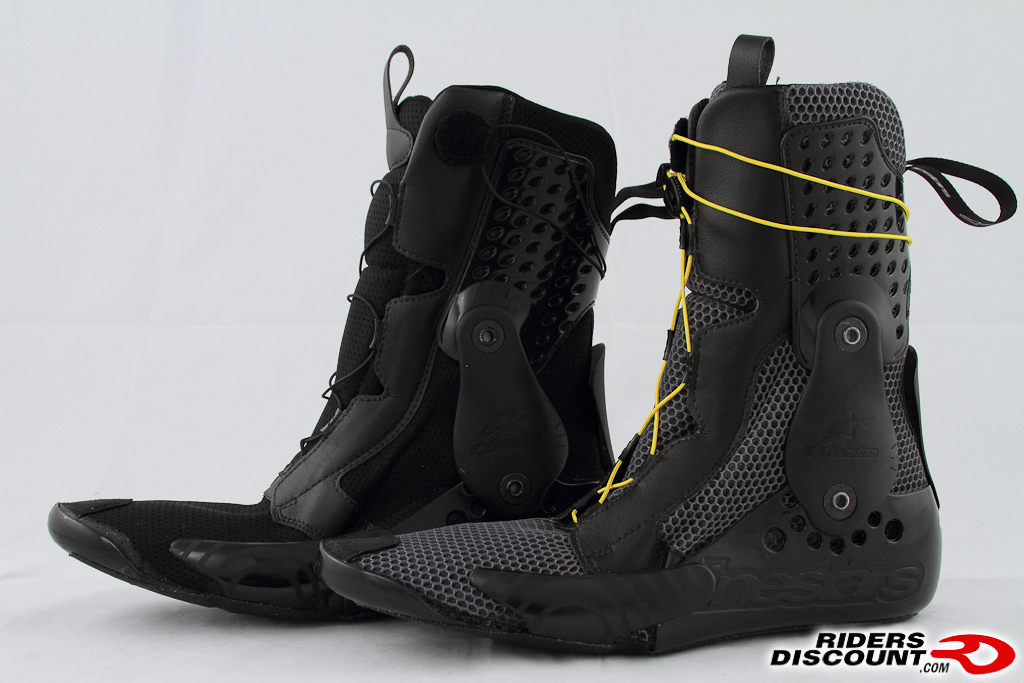 Black on white vented Alpinestars Supertech R boots.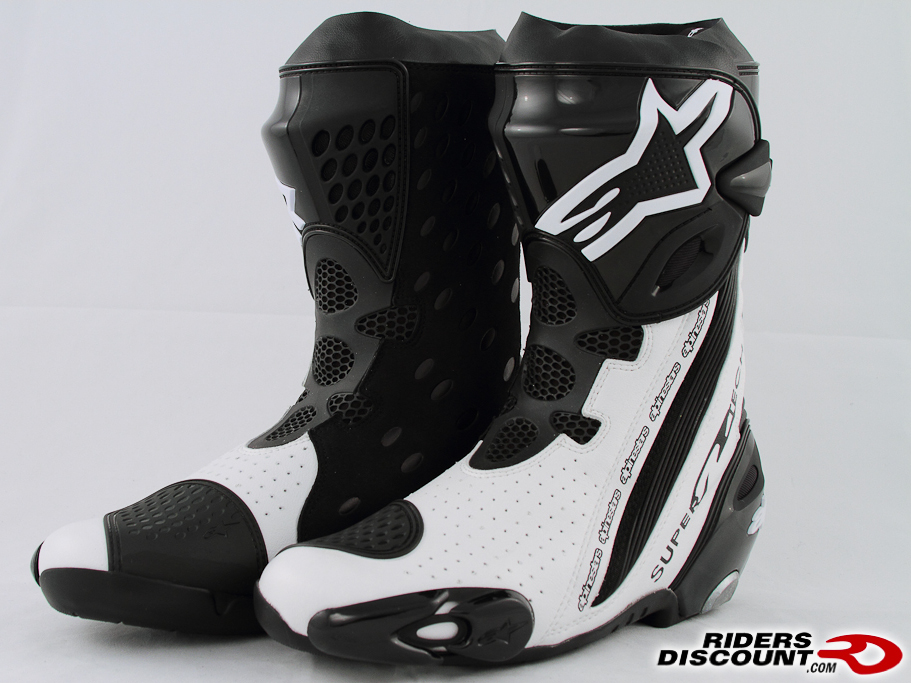 There's also a non-vented version available as seen here in solid-black.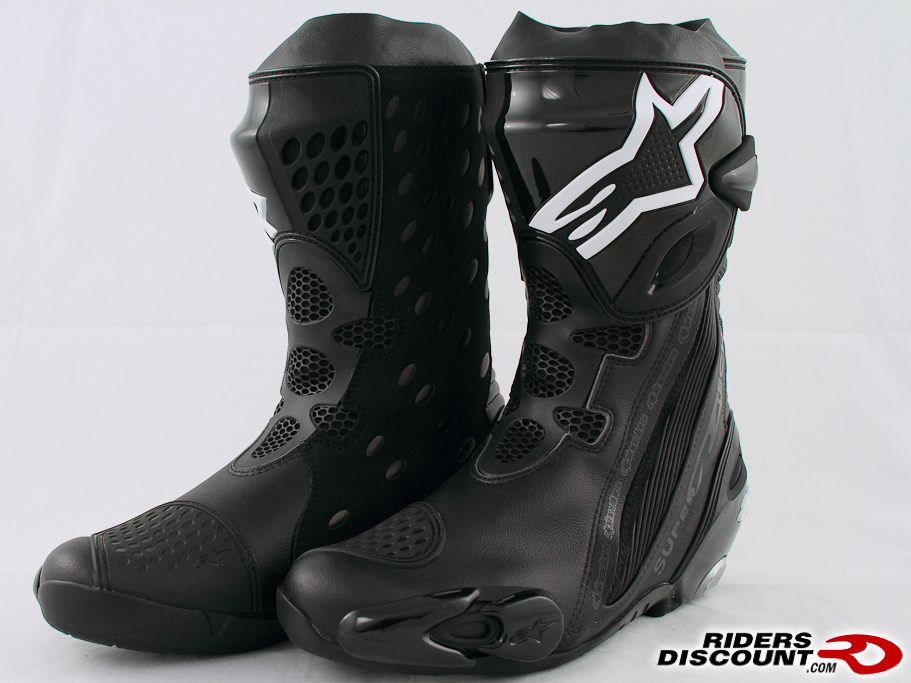 For a louder look, get 'em in white with red.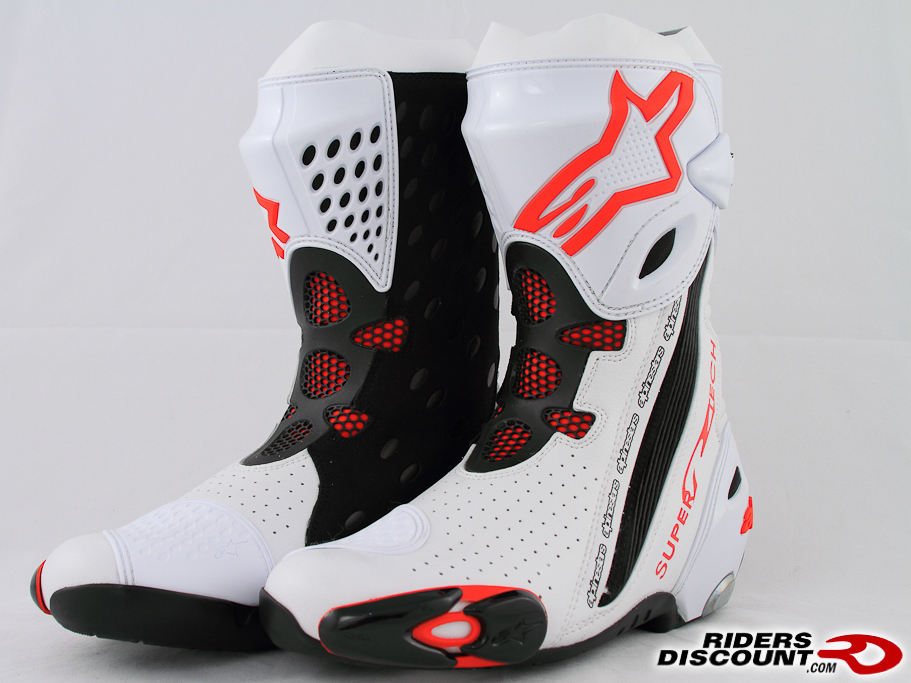 Then there's these black, white and yellow vented boot for anyone craving maximum attention.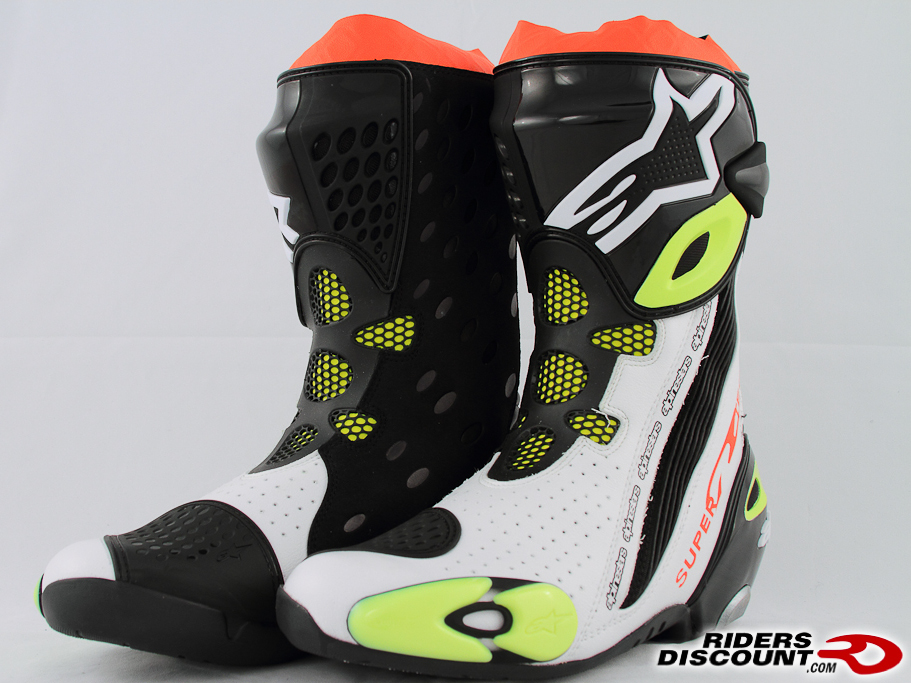 If you ride a lot (and we mean, A LOT!) when the soles wear out, you can send these boots to Alpinestars' US headquarters in California for new bottoms at a reasonable cost.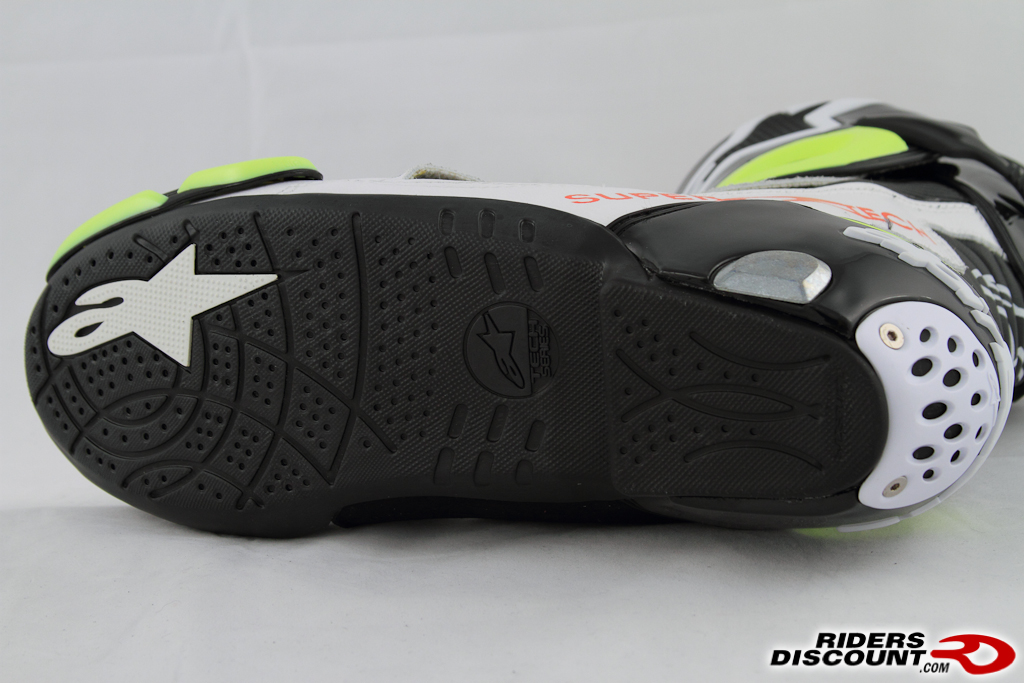 Speaking of wear items, if you tend to fall down a lot, some parts of the boots, like this heal protector, can be easily replaced.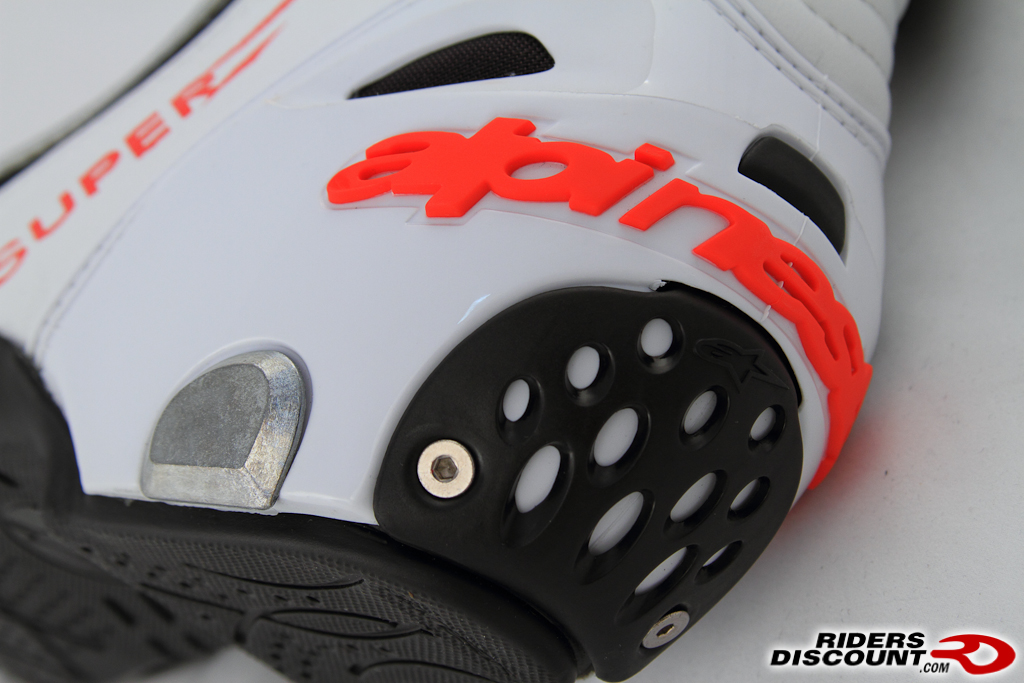 ---
Last edited by RidersDiscount; 08-07-2012 at

03:59 PM

.
Accordion flex panels built into the sides of each Alpinestars Supertech R boot allow them exhibit a high degree of flexibility without sacrificing safety. To the right of the bellows in the photo, the entry zipper is hidden (and well-protected) behind the leather flap with the Alpinestars logo running its length.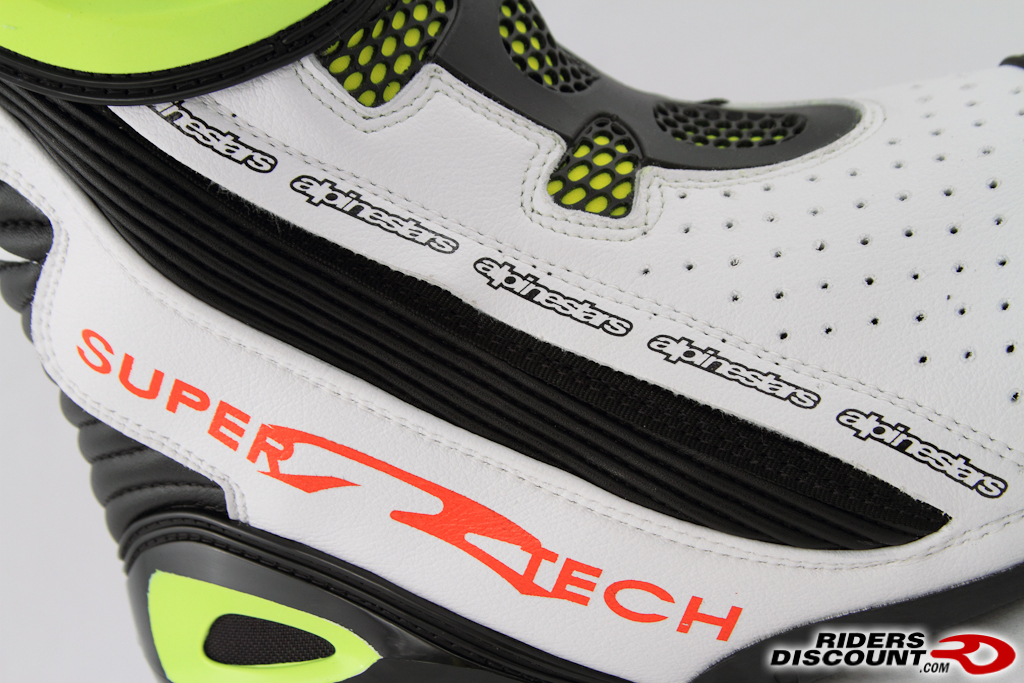 A ratcheting clasp at the top of the boot allows you to easily adjust the Supertech Rs for fit regardless of the type of leathers you're wearing.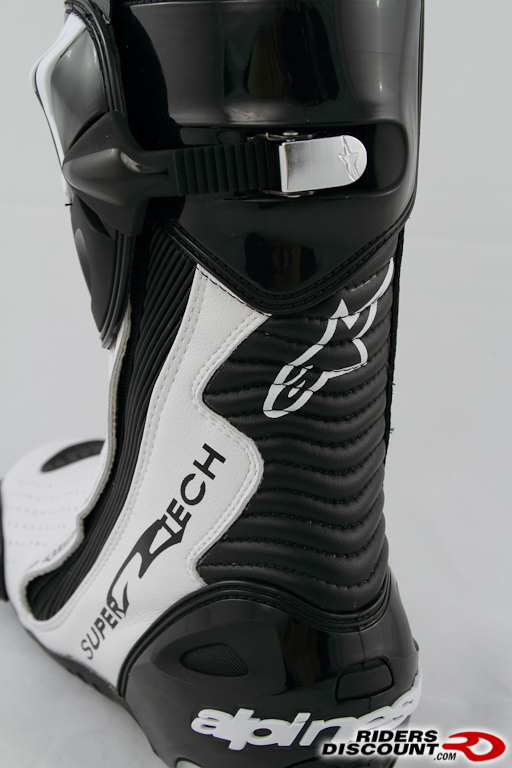 On the other side, a large TPU shin protector dominates the boot's upper.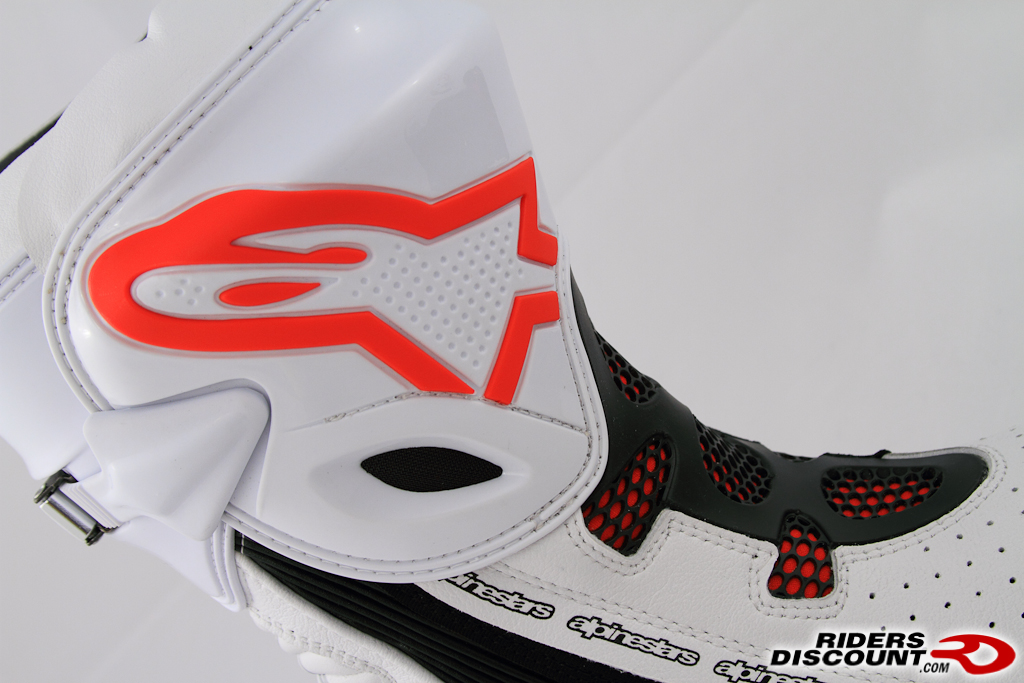 Replacement toe sliders are available in a wide range of colors as well as magnesium for extra longevity and showers of sparks when cornering low.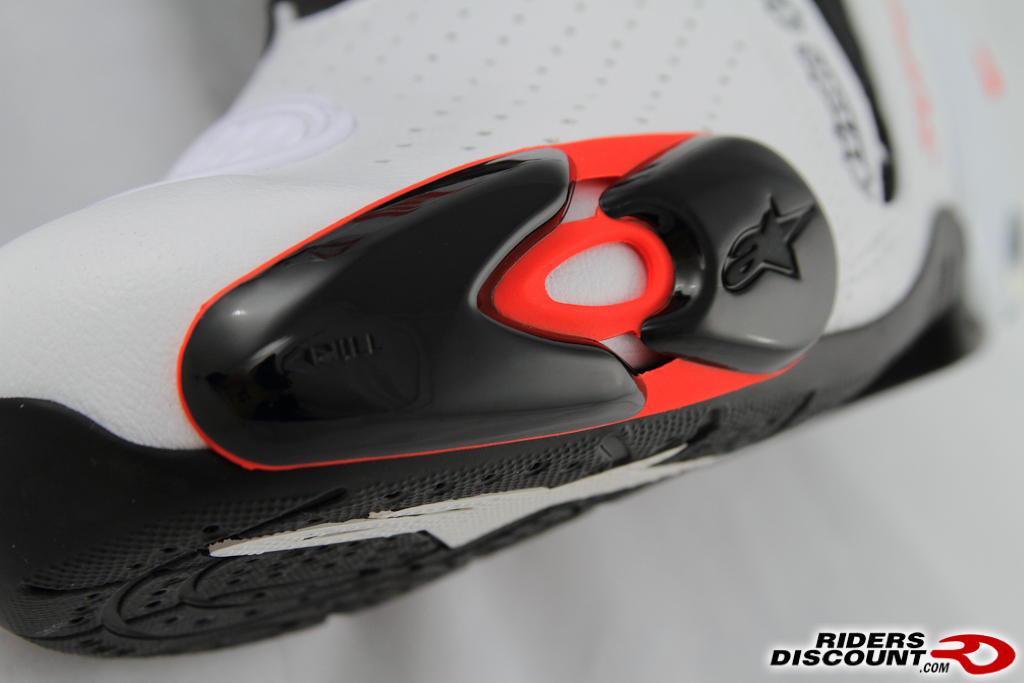 ---
Last edited by RidersDiscount; 07-24-2012 at

02:27 PM

.
Is the price the same as the older model? If not please send me the price of the new model.
---
Sponsor/Admin
Join Date: Nov 2009
Location: US/Spacecoast, FL
Posts: 7,704
Awesome boots for sure!! I have had them all this season and they are extremely comfortable. Best boot that's been on my foot yet!
The pricing has remained the same.
Member
Join Date: Apr 2010
Location: Central Pennsylvania
Posts: 66
Lifetime Member
Join Date: Oct 2010
Location: Sydney Australia
Posts: 287
Choose between vented and non-vented versions for your expected riding climate.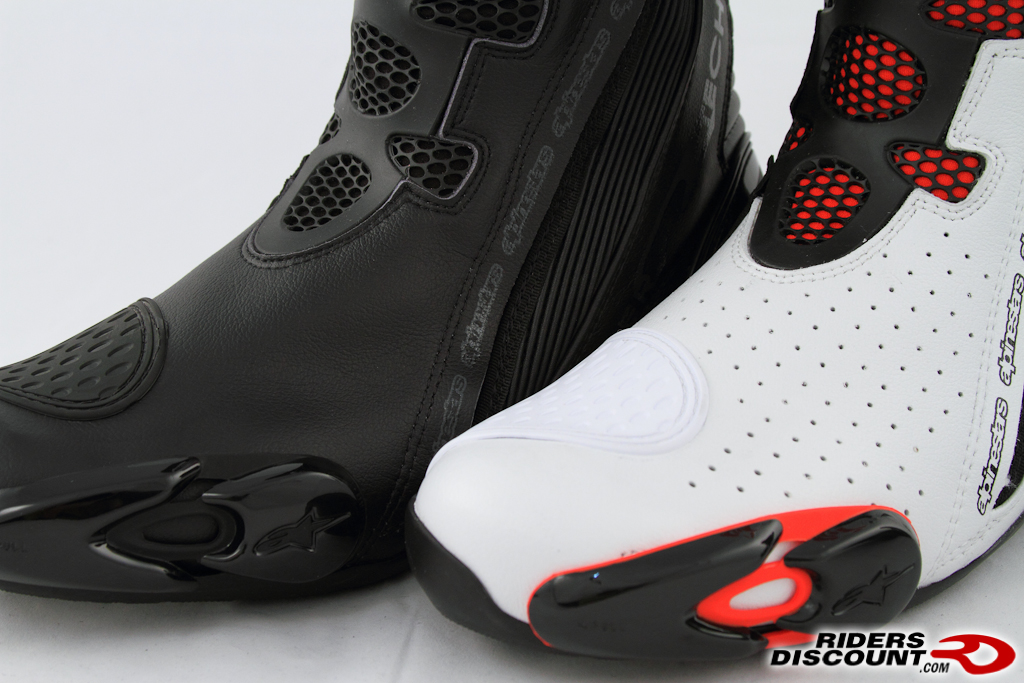 To improve the wear characteristics of the previous-generation Supertech R boots, Alpinestars has updated the lacing system of the biomechanical foot insert with a longer-wearing chord.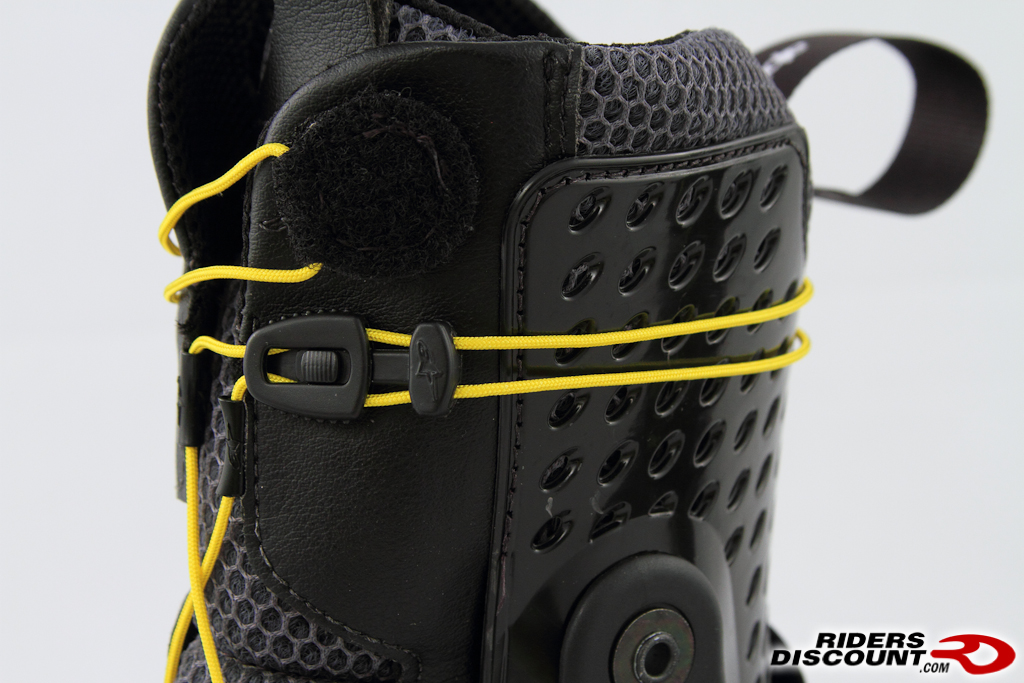 Not much to get caught up on the sides of your motorcycle here, which, is a good thing!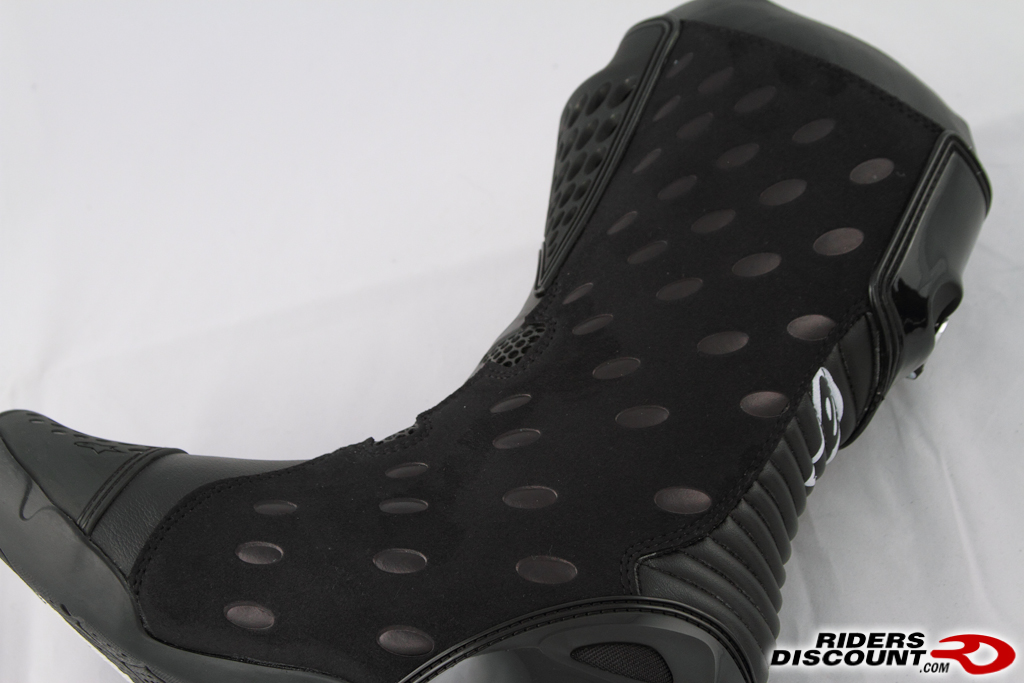 ---
Last edited by RidersDiscount; 07-24-2012 at

02:28 PM

.
Posting Rules

You may not post new threads

You may not post replies

You may not post attachments

You may not edit your posts

---

HTML code is Off

---