Senior Member
Join Date: May 2012
Location: Australia
Posts: 183
I've had a pair of these for about 6 months now and couldn't be happier, supper comfy, can wear them all day long and not get saw feet. They worked well when I high sided on the track a few months back, can see all the scrape marks on the areas that are there to help your feet slide across the road instead of digging in. And they lived to fight another day.
---
1991 Yamaha 50
1989 Yamaha 80
1989 Honda XR80
1988 Honda XR100
1993 Honda XR250
1997 Honda XR400
2007 KTM 450 EXC
1994 Honda RVF 400
2010 BMW S1000RR
2010 Triumph 1050 Speed Triple
2012 BMW S1000RR -->
Bike of the Month DEC/2012
<--
http://www.s1000rrforum.com/forum/bm...er-2012-a.html
↓
current bike
↓
2013 KTM 1190 Adventure
2007 Yamaha FZ6 Cup Race Bike
Definitely appreciate the feedback!
These boots are EXTREMELY comfortable and due to their inner boot fit any shape of foot (wide/high arch/etc). In fact, mine were so comforable that I thought at first that they were way too big. They are also top rated in terms of safety; ankle, feed and toe injuries are notoriously difficult to heal and these boots offer a very high level of protection.
Only 'negative' is that it takes longer to put them on than normal boots. But then again, The RR boots are not 'normal'. A small price to pay for better safety.
You won't regret this buy!
---
'12 S1000RR Motorsport
'91 HD FXR Custom
Definitely appreciate the feedback!
Sponsor/Admin
Join Date: Nov 2009
Location: US/Spacecoast, FL
Posts: 7,704
Sorry for gumming up your thread TJ, but it just goes to show how good these boots are. Couple things - I did get my boot back from Alpinestars yesterday. I tore up the front a bit... they did an absolutely OUTSTANDING job repairing the boot, they sewed in a new piece of leather and put a new mount in for the toe slider... phenomenal job!

Side Note on the SuperTech-R's. Speaking of inner boot. There are some other top notch boots out there (you'll recognize them, when you hear them)... that when the folks go walking by your pits... they squeak! These do NOT. The reason being is that Alpinestars put the ankle protection in/on the inner boot. The exterior also provides various protection... but some of these others squeak when you walk because the ankle protection is put on the outside of the boot (the protection that helps prevent ankle sprains and breaks).

Subtlety, but something I certainly appreciate - my boots not being squeaky/noisy.
They may be a couple years old now, but the Alpinestars Supertech R's are still easily one of the best boots on the market. Get your pair by giving
TJ
a call at 866.931.6644 ext.
817
.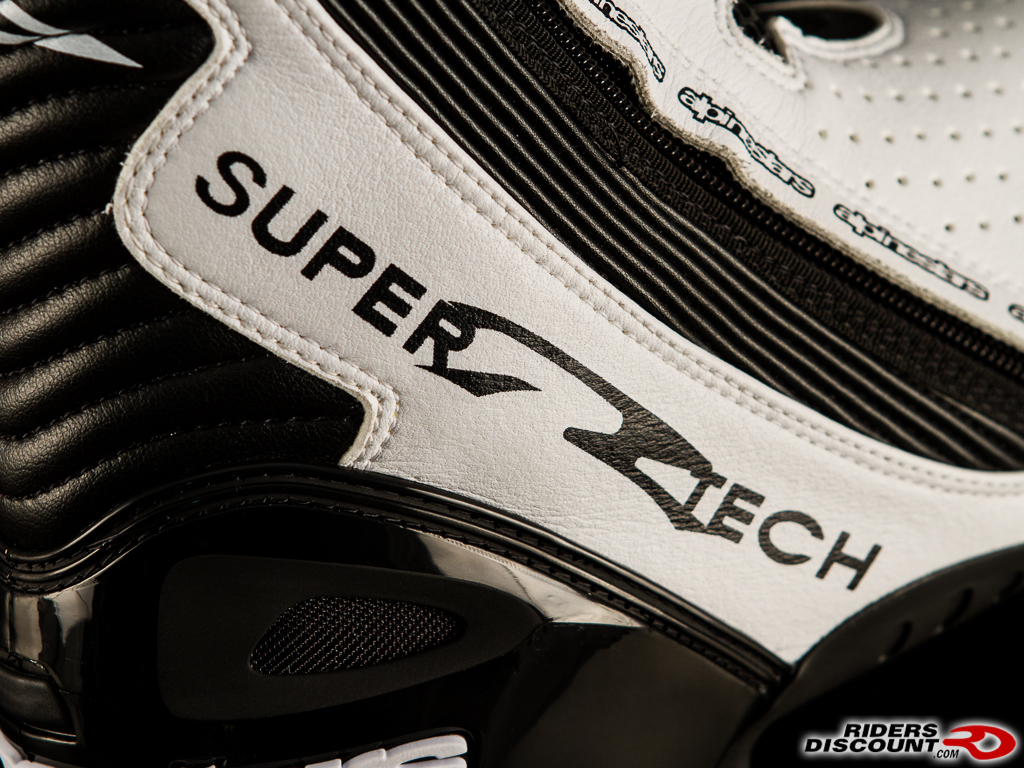 Whether you need vented or non-vented boots, the Alpinestars Supertech R is one of the best pairs you can put on your feet. The photo below shows the vented boot on the left and standard on the right.
Get a pair of your own by calling
TJ
at
866.931.6644
ext.
817
. Is email more convenient? Feel free to send those to
FORUM at RIDERSDISCOUNT dot COM
and we'll get back to you right away!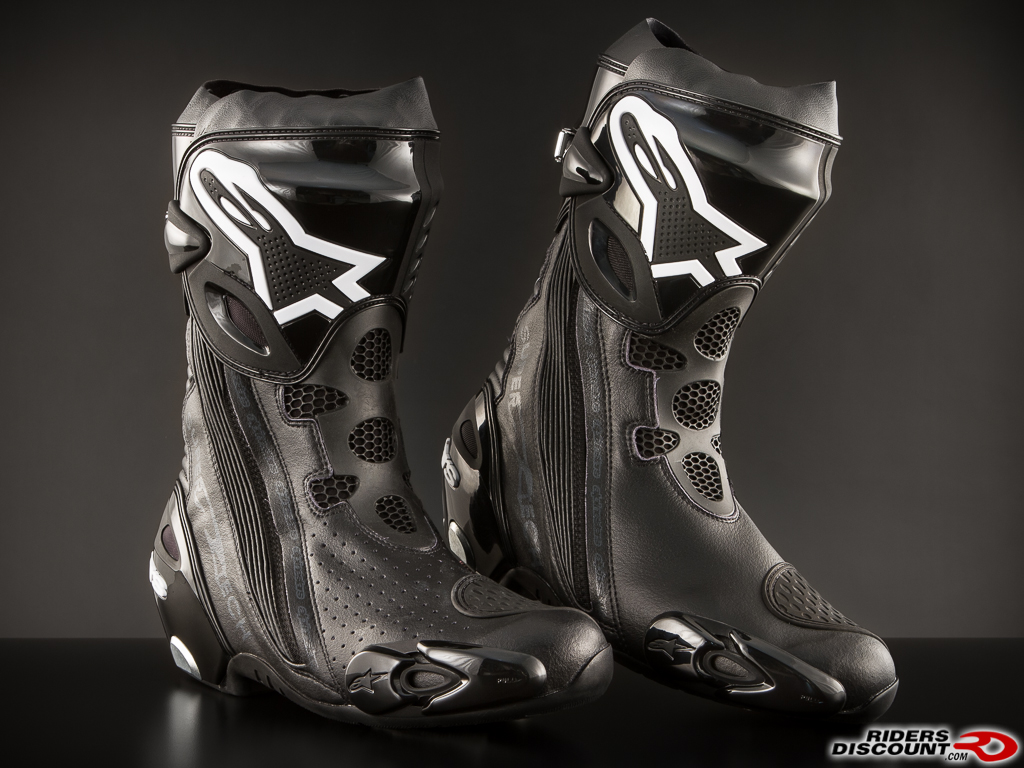 I've sent you a PM for a price to Australia for a pair of black non vented size 41. Thx.
Sent from
Motorcycle.com Free App
Posting Rules

You may not post new threads

You may not post replies

You may not post attachments

You may not edit your posts

---

HTML code is Off

---