Gaerne GP-1 Road Racing Boots - $199
---
The Gaerne GP-1 boots were a huge hit for Black Friday. We only have a few left but they are currently available in sizes
10 (Euro 44.5) & 11 (Euro 46)
both white and black. Blow out priced at
$199
shipped in the lower 48 states! (MSRP $449.95)
Gaerne GP-1 Road Racing Boots offer an innovative protection system for your feet. They're designed to compliment your lower extremities' natural range of movement while preventing over-extension and the subsequent injuries from the powerful forces that often come when falling off a motorcycle at speed. Made in Italy, these boots are assembled with a Lorica upper that won't stretch over time while also being highly resistant to abrasion, water resistant and more breathable than conventional leather. A large polyurethane armor plate is at the front of each shin and the same material is used to surround the heel in a tough shell. These two units are linked by a carbon composite skeleton that is used to impart an extra degree of lateral rigidity in the interest of safety. Should these boots be called in to duty, the magnesium sliders for the toe and heel, along with the shin plate, can easily be replaced to keep your boots not only looking new, but also as protective as possible. Inside each boot, a comfortable mesh lining is used which molds itself to your foot quickly so it won't shift around within. A comfortable, anatomically-shaped inner sole has built-in shock absorbing material to dampen vibration and increase your comfort on the bike. Gaerne developed these boots with input from riders like Aleix Espargaró with the intention of providing a highly protective, yet very comfortable place for your feet to reside. You'll quickly notice that they've realized these goals the first time you ride with these boots on your feet!
For more information and expert sizing assistance, call TJ at 866.931.6644 x 817. You can also email us, send those to FORUM at RIDERSDISCOUNT dot COM with GAERNE GP-1 BOOTS in the subject line and we'll get back to you shortly.
Gaerne's floating system allows the foot to move naturally while preventing hyperextension, twisting and compression injuries. For those of you that have lost your footing suddenly and whacked your foot hard against the footpeg, the extra armor on the shin and the full length of the calve will be a welcome site.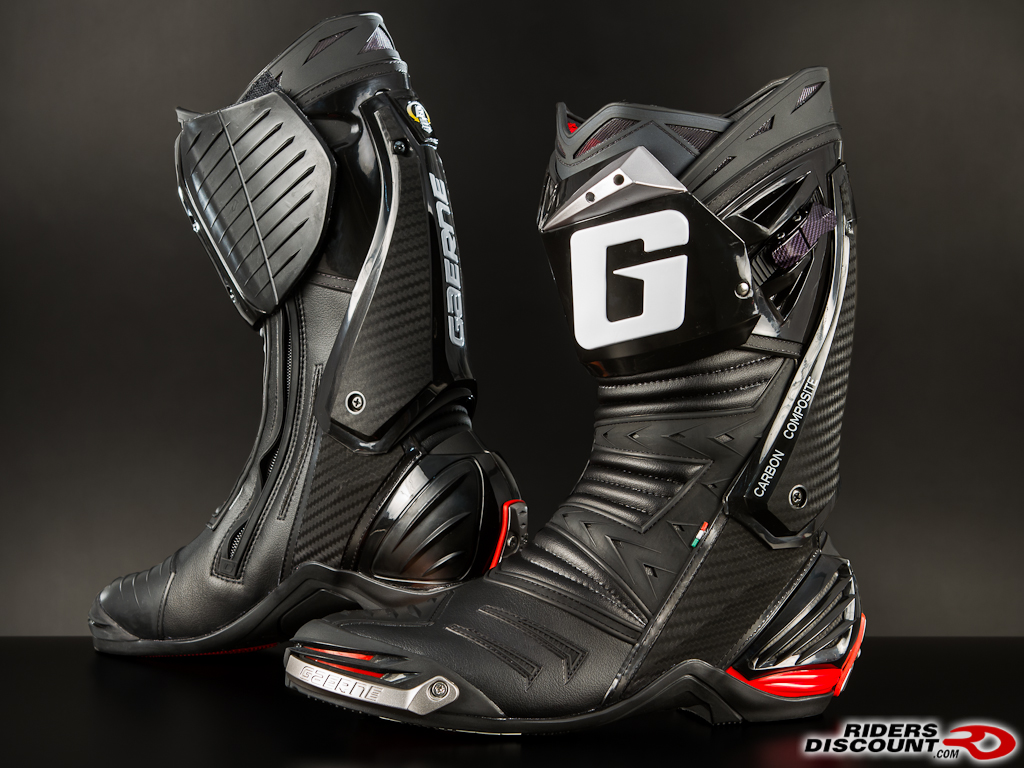 A shock absorbing heel cup surrounds the heal in an armored fortress that not only absorbs impact energy, but also includes a low-friction magnesium slider element.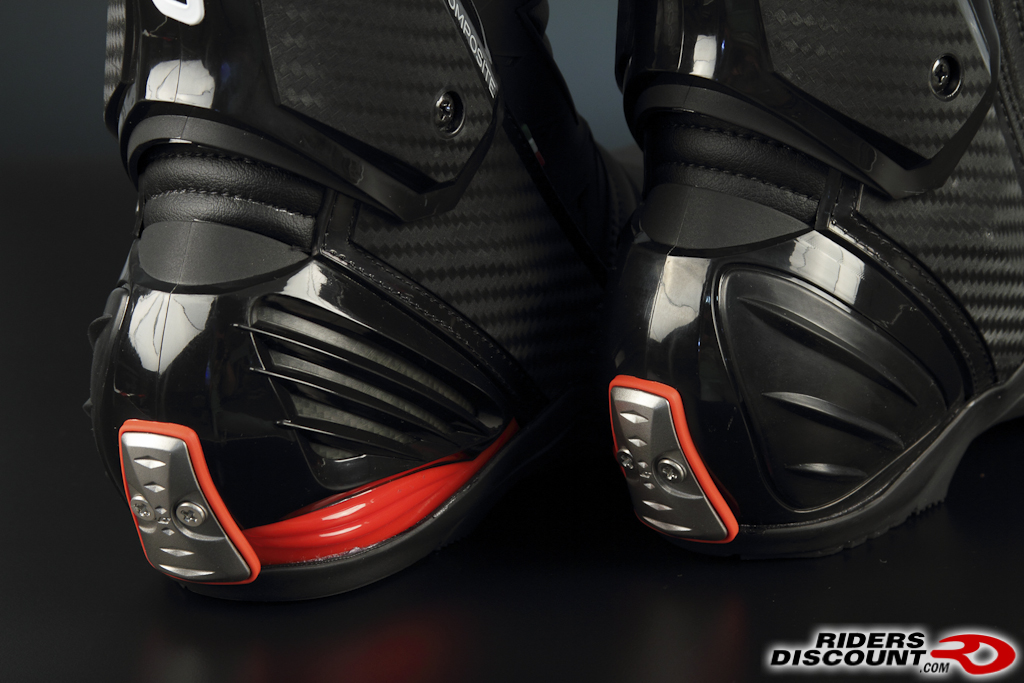 Gaerne GP-1 Racing Boots in white.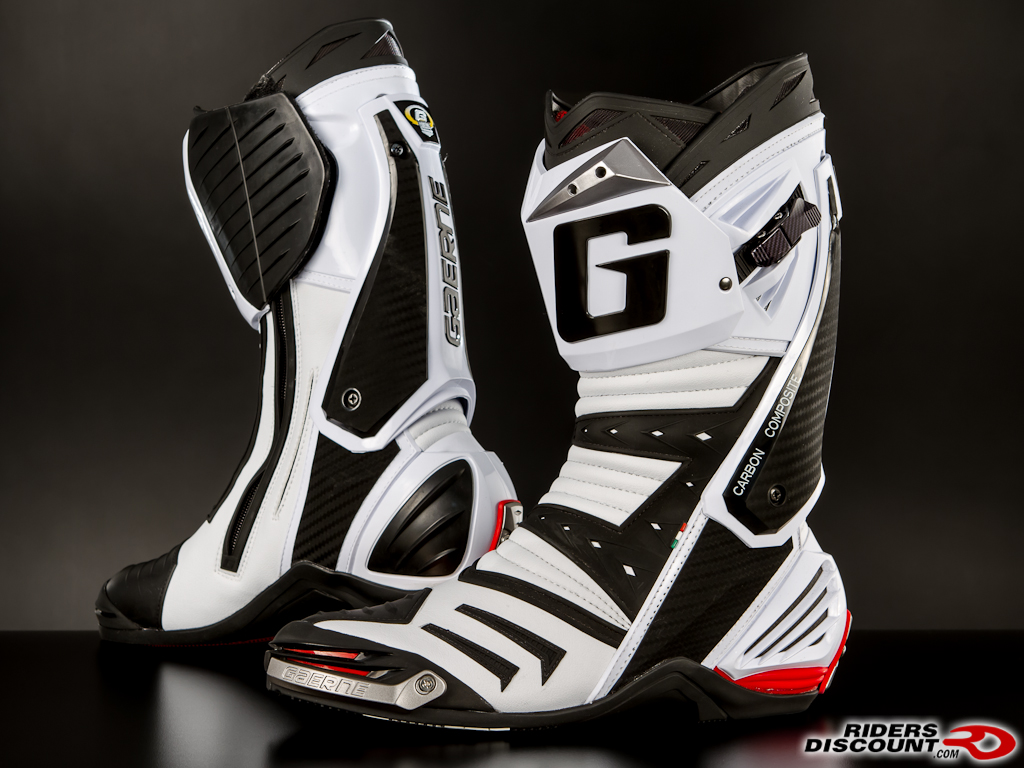 A rubber gasket runs the circumference of the top opening on each boot for a close fit against the calves.
There's also a micro adjustable ratcheting system on the outer side of each boot to permit a fine degree of tuning. You'll be able to fit each boot against your legs perfectly.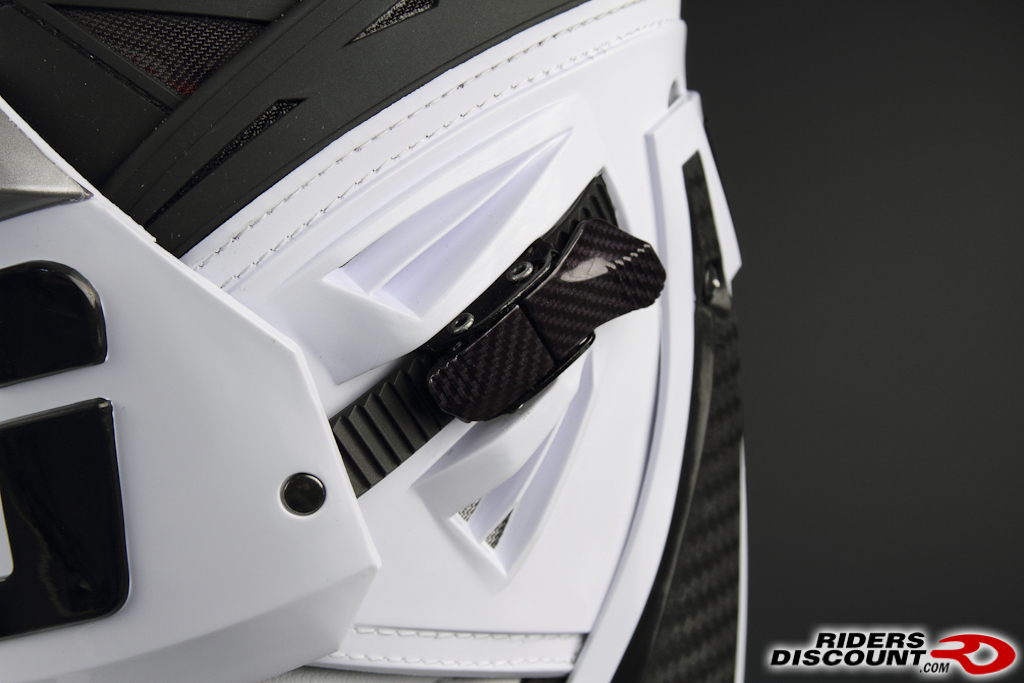 A full-length zipper is secreted behind a rubber gasket on the inner side of each boot. This opens the top up very wide, making it easy to get your foot in, or out of the boot. The rubber material also helps you grip your foot against the motorcycle.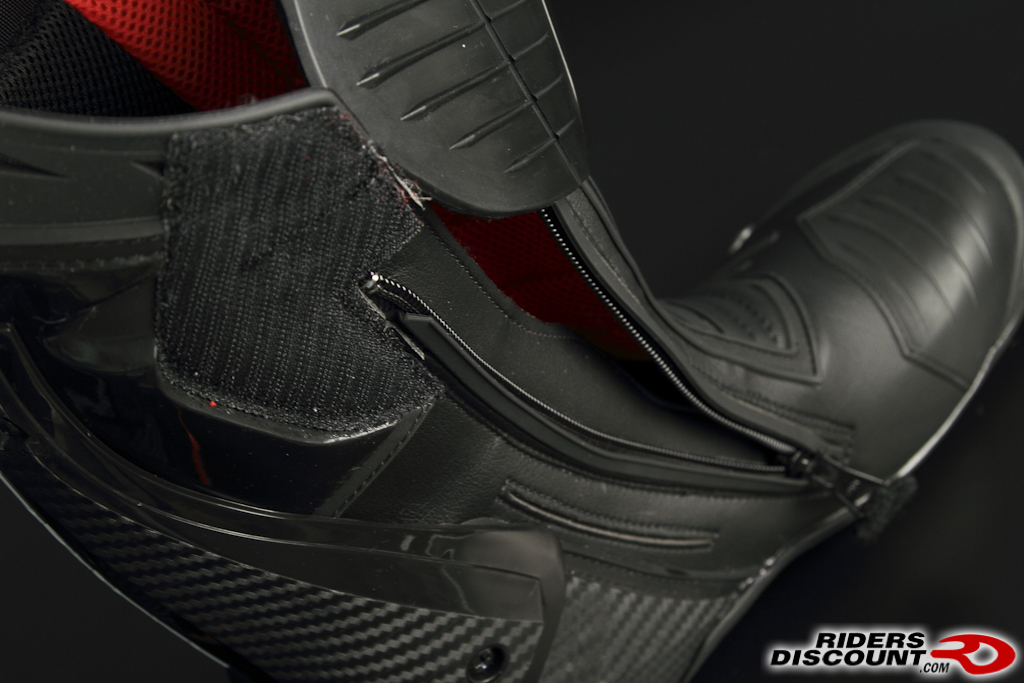 ---
Last edited by RidersDiscount; 12-04-2012 at

10:57 AM

.
Magnesium toe sliders are fitted as standard. They're housed in a hard rubber surround to offer an extra degree of cushioning when your toe hits the ground suddenly.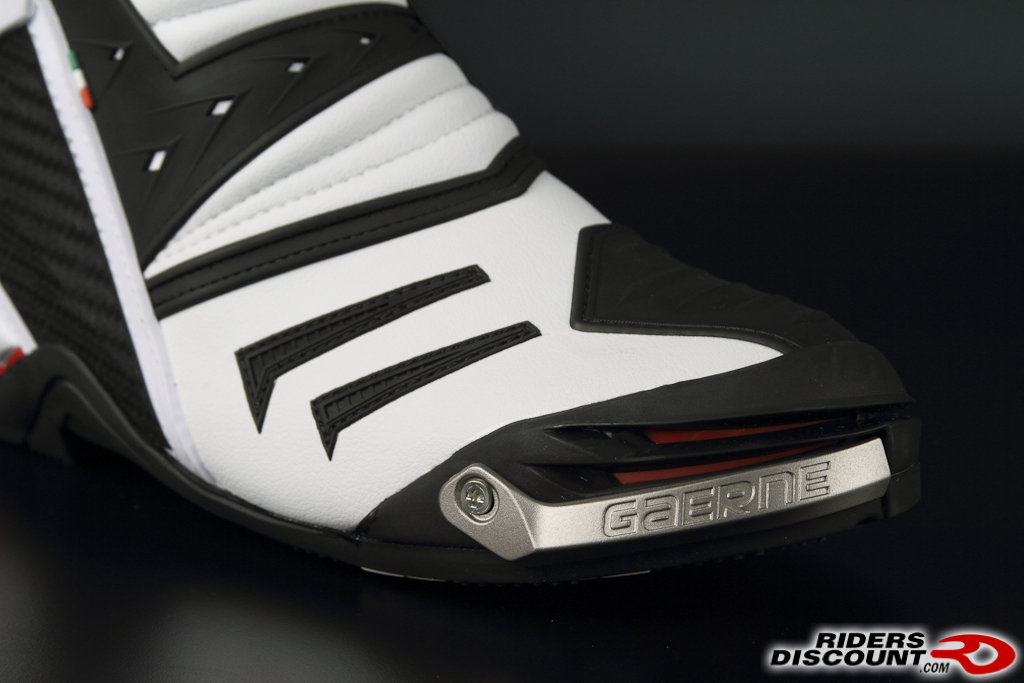 Each boot comes with a fully removable inner sole that can be washed to keep it fresh. A special shock-absorbing material is employed for maximum comfort. Also, notice the perforations in the toe and arch areas. These, along with the antibacterial and breathable inner-boot liner, keep your feet cool and dry no matter how hot it is outside.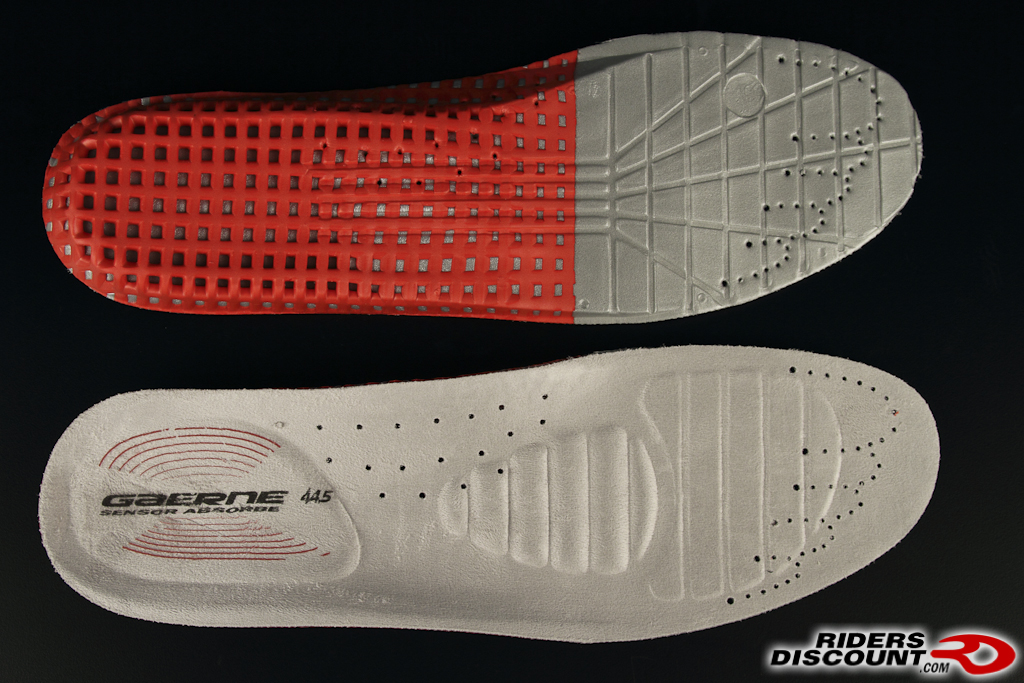 An oil-resistant, long-wearing sole features a unique molded pattern for confident grip, rain or shine.
Down to the last pair in size 11/White
Senior Member
Join Date: Aug 2012
Location: Seattle area
Posts: 511
Senior Member
Join Date: Oct 2010
Posts: 787
How are these sized? e.g. I wear a 11.5 but on cheaper cut boots I need a 12. Wonder if a 11 would be too small?
They are true to size. If the 11 in street shoes is too tight you will probably find these to be too tight as well.
Down to black size 10 and 11 and white size 10. I only have a couple left in each so do not wait if you want in on this deal.
Down to the last 2 pair in black size 11. All other sizes and colors are gone.
Posting Rules

You may not post new threads

You may not post replies

You may not post attachments

You may not edit your posts

---

HTML code is Off

---