I would say it is more of a "Race" cut than the Latigo which has slightly more of a "street" or upright cut. If you wear them back to back you will notice the front of the Adrenaline suit is slightly shorter. This makes it a little more uncomfortable to stand in than the Latigo, however you will find the cut of the Adrenaline to be more comfortable on the bike.
Senior Member
Join Date: May 2012
Location: McKinney TX
Posts: 113
Price for the Blue.

Thanks Rob
Senior Member
Join Date: Jul 2012
Location: Dallas
Posts: 608
Would you mind sending me a PM on pricing, thanks.
---
2014 BMW HP4/C - #5096
2008 Ducati Desmosedici Team Colors - #187
2015 One Bad Ass Schwinn on layaway.

"Endeavor to do something for someone who cannot repay you".

"Each day, you wake up and decide who you wish to be. Endeavor to do something great".
Senior Member
Join Date: Apr 2011
Location: NC
Posts: 145
Can you PM me the price of the blue please? Thanks
It's always nice to know how your protective gear is going to perform in the event of a crash before making a purchase, and the Cortech Adrenaline is a suit that we have plenty of experience with. This comes from having sponsored AMA pro-racers like 2012 Daytona 200 winner, Joey Pascarella, who wore Cortech suits throughout the 2012 season. His suits are nearly identical to the production version that is available to you, with the only major difference being that his are custom fitted.
A few of his suits made their way back to the
Riders Discount
headquarters at the end of the season, and let's just say they were well worn-in. Actually, when we say well worn-in, we really mean that they have had multiple, unintentional encounters with the pavement. These suits may be in rough shape now, but you can definitely tell that they did the job and held up remarkably well considering that they have seen at least two crashes.
We'll be bringing you a more detailed look at specific areas periodically, so stay tuned![/SIZE]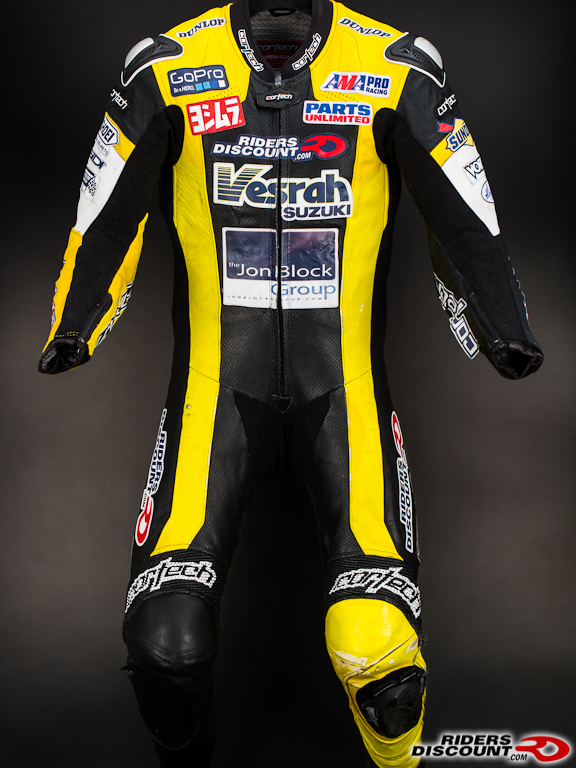 Black Friday deal?
---
Will you have a black Friday deal on one of these
Waiting waiting!!
Cortech won't allow the Black Friday discounts on this brand new suit.
Oh thats easy! Dont tell them anything - lol!!
I am classified crazy
Posting Rules

You may not post new threads

You may not post replies

You may not post attachments

You may not edit your posts

---

HTML code is Off

---