2012 w/ Austin Racing GP3 Full Exhaust (and CF bits)
---
[
Disclaimer: Yes those are some huge "chicken strips". But most of my miles have been on interstate/freeway. I plan to get on some back roads this weekend and trim those babies down!
]
Now with that out of the way, just wanted to post a couple of before and after pics of my 2012 Red and White S1000RR with the AR exhaust. I will record a video of the sound and post that as well. Speaking of sound...OMG...loud is an understatement. The first time the tech in the dealership fired it up, EVERYONE immediately turned their heads with a look of WTH is that.
I installed a PC V map I got from Rich at Austin Racing and the bike runs great. Still plan to get it a custom map done at some point though. And the pick up in mid-range is better than good. As soon as I left the dealership I immediately noticed the difference...wow. I can't wait to get it back on the dyno and compare before and after.
I spent a lot of time agonizing over which exhaust to get. Akra, Arrow, Brock's or AR. I ultimately chose AR because of the great feedback, the looks and most importantly Rich's customer service. He responded to many emails quickly and with no hesitation. He "won me over" with his support of his product. My only concern is the can is damn near touching the swing arm. It is awful close (more so than the cut-n-shut systems I've seen), but hoping it will be fine.
I think the bike looks good and sounds amazing. Yea, that's a lot of carbon fiber...maybe a little too much, but I'll stick with it for now. I'm not a "bling" guy, but like tinkering and adding CF isn't like a custom paint job and chrome everywhere. I chose the AR carbon fiber primarily because I really like the dimensions of their belly pan vs the Ilmberger (no offense to those with that belly pan). Probably would have gone all Ilmberger if it weren't for the belly pan, but now with all the bits added I have zero regrets. Really wanted all of my CF bits to match so there you go.
Just need to get rear sets and new levers and I'll be about done...
Before (in the morning):
After (in the evening):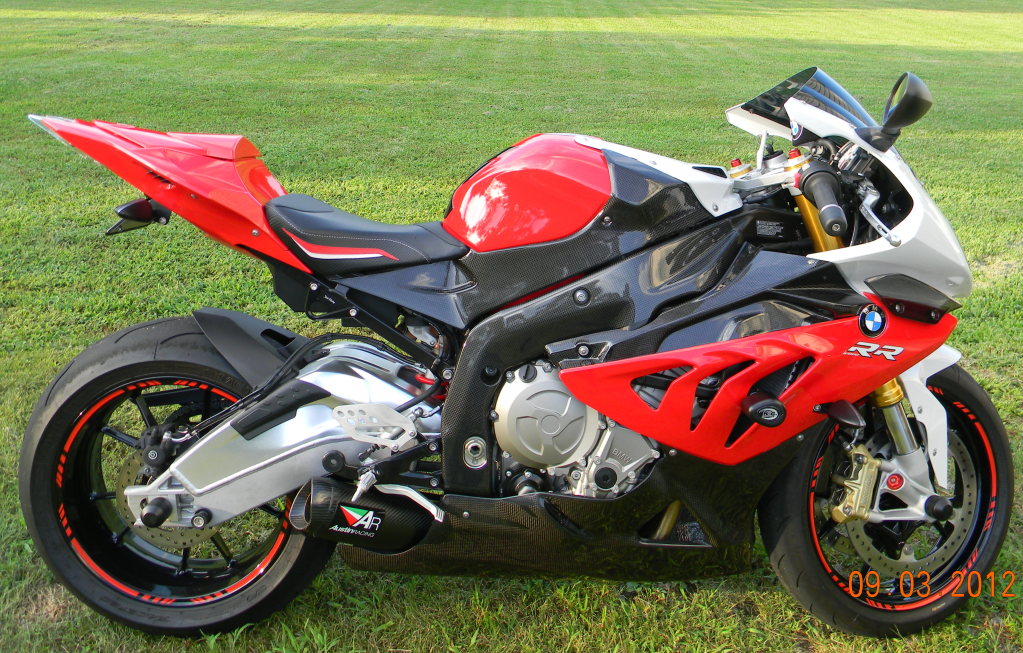 "Down the line shot":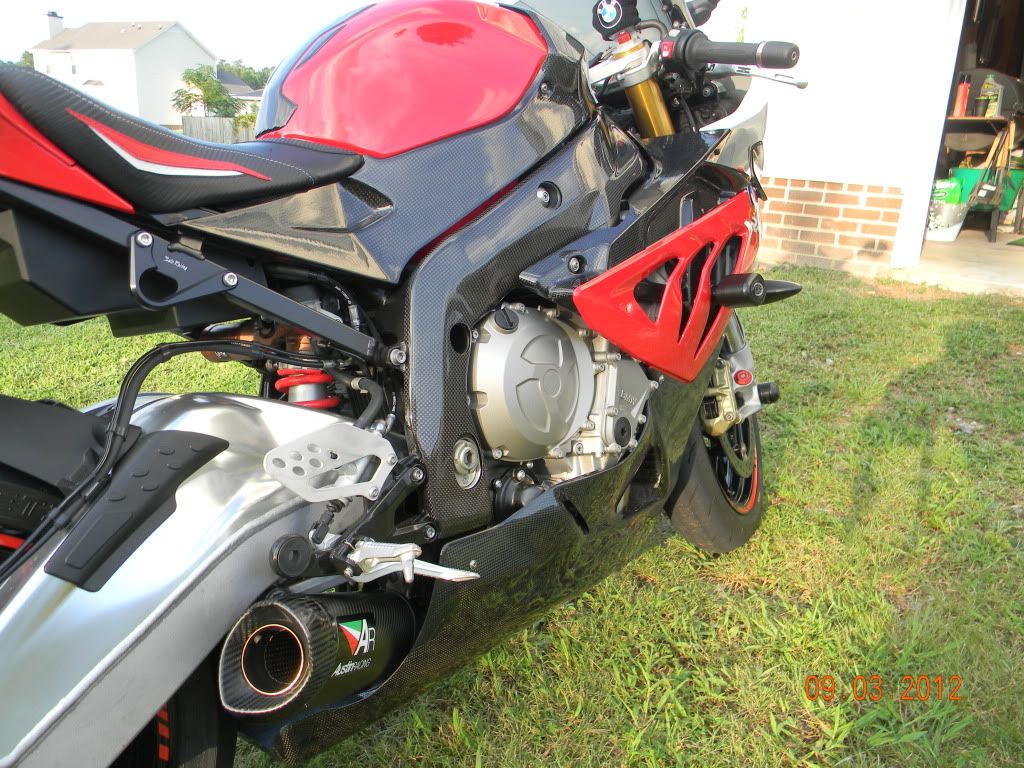 ---
'12 Red & White S1000RR
---
Last edited by GNice4U; 09-04-2012 at

11:25 PM

.
Senior Member
Join Date: Apr 2012
Location: Baltimore MD
Posts: 117
Your bike looks f*ckin sick bro! Love the rim tape/stickers. I almost bought the red/white but went with black instead. If I got the red/white I was gonna paint the rims white then slap those red stickers on as well. Also, I don't think the carbon is too much. The bike still looks like it belongs to a rider and not a poser
Senior Member
Join Date: Aug 2009
Location: Cleveland, OH
Posts: 365
I think it looks awesome! There's no such thing as 'too much carbon fiber'
Thanks for the comments guys. My original thought with the CF bits was to only replace/cover the parts that are black. i.e. - it keeps with the original/factory color scheme except now it's just better.
---
'12 Red & White S1000RR
---
Last edited by GNice4U; 09-05-2012 at

12:45 AM

.
Amazing looking bike you got there! You make me want to go CF crazy as well.
Congratulations choosing the best sounding exhaust for the S1000RR, nothing sounds like AR at full throttle and using the quick shifter
It looks really nice along with the color of your bike
Can't wait for your videos
---
2010 S1000RR-Austin Racing GP3 full Exhaust - Brentuning ECU reflash & tune - Sprint airfilter - BST wheels - Ceramic wheel bearings , 5" stretch, lowered, Brock's Performance clutch mod & heavy spring kit & front strap kit, APE Clutch, -1 front sprocket
8.78 sec on 91 pump gas (8.41s on mr12 on my friend's similar spec bike)
YouTube: BMWS1000RRBAHRAIN
Instagram:BMWS1000RRBAHRAIN
Member
Join Date: Sep 2011
Location: Melbourne, Australia
Posts: 92
Well done! Great looking bike and it all blends in very well. Great mods and not too much bling either.IMO I'd get the round stock exhaust mount chopped off and then it'd be perfect but it's only my opinion. Great work !!
Senior Member
Join Date: Apr 2012
Location: NewDelhi,India
Posts: 360
Great looking exhaust, beautiful bike!!!
---
S1000RR 2011 Motor Sports
Ducati 848 Evo [Sold]
Yamaha R1 08 [Sold]
Yamaha R1 01 [Sold]
Posting Rules

You may not post new threads

You may not post replies

You may not post attachments

You may not edit your posts

---

HTML code is Off

---