Member
Join Date: Feb 2012
Posts: 58
Kickstand Nearly Fell Off
---
Whoops! When I left this morning the kick stand felt a little loose but nothing I really thought about till I was moving. I'll check it out at the gas station. I put it down and I'm missing a bolt and the other is loose. You can also see that the wiring for the switch is a bit gummed up. Thoughts? Do I just get another bolt and tighten it back up and then electrical tape the wiring?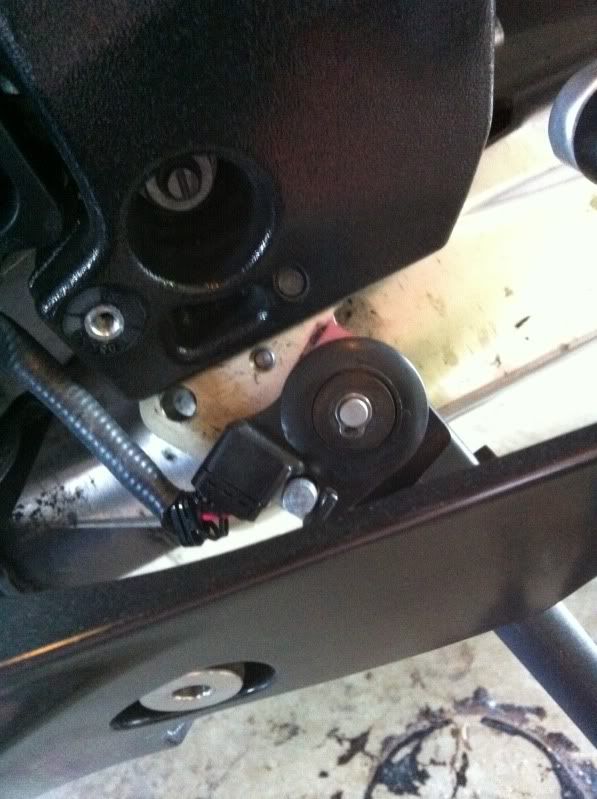 A new search with "side stand" gave me more results. I'm calling now to see if my 2011 needs replaced for recall or not.
---
Last edited by Anonymoustache; 05-10-2012 at

01:33 PM

.
This happened to me on my TLR as well. I just got a new bolt put some lock tight on it and it help up for years after that.

I did check it for about two months after each time I got on the bike to see if it was still holding on well enough.
---
The more I practice the luckier I get. - Gary Player.
Member
Join Date: Dec 2011
Location: Munich
Posts: 98
Had the same problem last week
Will get a new switch together with cable (might be damaged).
---
Last edited by ManfredH; 05-11-2012 at

04:01 AM

.
Just happened to my '12. I only have one...closest to the rear wheel. Looks like the parts fiche diagram says it's an M8x28 bolt that I need to find at home depot... 13mm head.
Also, are there any other major bolts to check?
Ooo....guess I'll go check the kickstand! I frequently do kickstand turns, so I wouldn't want this to happen mid turn
---
Life is not about waiting for the storm to pass…
it's about learning to dance in the rain
The Fukarwe Club
Yup, went to home depot this morning and got an M8x30 bolt (M8x28 wasn't available). 70 cents. Red tread lock and 10 minutes later, fixed.

Highly recommend everyone to check theirs. 13mm wrench required and do it when the bike is cold...
Senior Member
Join Date: Mar 2012
Posts: 310
Banned
Join Date: Apr 2012
Posts: 78
Quote:
Mine was loose also
My god I hope we start to send emails to bmw this is not what we expect from bmw starter switches fai.l loose bolts.rattly noise from loose nuts but can't find them .headlight switch problems engine bolts recalls this is to list just a few things in here and I've also had bad.switch too...bmw is going down hill fast this bike is full of bad bits come on bmw what's the crack here.......he bmw bike division certainly ain't like there cars....reliable...
Junior Member
Join Date: Jul 2012
Posts: 1
hey guys my first post here. i got a 2012 bluefire s1k and the kickstand completely fell off when riding! i took it to a dealer near me and they havent touched it for 3 days because they have to send pics to bmw first and see there response before they make repairs. they said they never had something like this happen. first bolt missing and second bolt stripped the threads in the frame. there acting like im the only one in the world with this problem. seems like it may be a real problem they havent gotten a response yet from bmw im missing out on these nice days
I recall another thread sometime in the last week where someone took their bike to the dealer for a service, and their kickstand was loose as well.
Posting Rules

You may not post new threads

You may not post replies

You may not post attachments

You may not edit your posts

---

HTML code is Off

---