Fender eliminator for HP4? Does this kit work?
---
Yes it will work, but please understand, your drilling into your $20k+ motorcycle for a $140 item.
Plus it looks like it belongs on some kids gixxer
This is a limited run bike, please don't destroy it with ricer crap.
---
2010 Mineral Silver S1KRR-Sold
2012 Motosports. S1KRR-Sold
2013 HP4 Competition #0373-Sold
Drilling? What do you mean?
I just thought it would look good. I saw a post of one with a fender eliminator ane it looked awesome.
Don't get me wrong not trying to be a dick, I've Owned tons of jap bikes and loved them, it's just with this beautiful bike you should keep the kinda cheap looking stuff off, just my opinion.

I also have never owned the kit your looking at, but to me it looks like you have to drill into the battery area for the license plate support, I could be wrong
---
2010 Mineral Silver S1KRR-Sold
2012 Motosports. S1KRR-Sold
2013 HP4 Competition #0373-Sold
Banned
Join Date: Jul 2011
Posts: 659
There's a bunch of threads on fender eliminators and most of them have gotten good reviews. The Competition Werkes kit you pointed out does require drilling into the battery box, but you can probably get away with using 3M extreme double sided tape instead.

I think it's all personal preference. I went with the Graves kit because it requires no cutting, reuses the factory lighting (my locale requires DOT-approved lighting), and it's nicely recessed into the tail.
---
Yup that's the one. I think I bought mine from 2WheelPros for a little less. That pic isn't a very good one. It sits more flush with the tail, at an angle. There is a thread on here that has some pictures too btw.
who needs the eliminator just get intergrated tail light dril the plate in the same spots as the 3 points that are there already for the fender cover the whole from the inside that you cant see with blue electrical tape and your done
---
2012 Ducati 1199 Panigale S
2007 Ninja ZX6R (track bike)
2014 BMW HP4 5641
Integrated indicators, BMW race cover kit and a small bracket for the plate
All stock parts, no drilling and if you dont need the plate, just remove one screw ...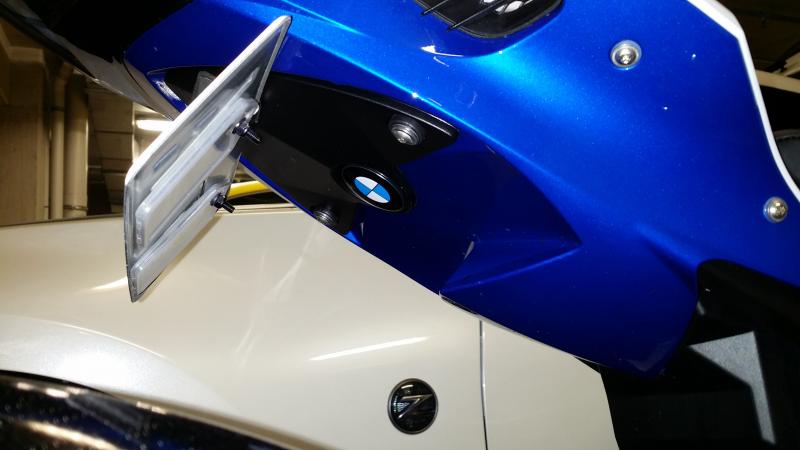 ---
2014 HP4 comp.
2012 370Z
1999 R1 "The One"
Posting Rules

You may not post new threads

You may not post replies

You may not post attachments

You may not edit your posts

---

HTML code is Off

---